C&I graduate attending AERA conference with help of international award
by the College of Education at Illinois / Apr 25, 2017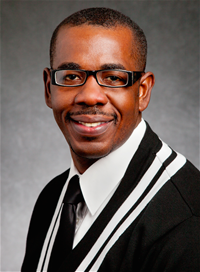 Utilizing the Travel Support for International Scholars funding he received, Andrew Anthony Hunte, Ph.D. '16 C&I, will attend the April 27-May 1 AERA Annual Meeting in San Antonio. The award is offered by the International Relations Committee of AERA for outstanding scholarly work being presented at the conference by an international scholar.
While in San Antonio, Hunte said he is looking forward to networking with other scholars in the field of mathematics education. He will give an April 28 presentation titled "Reform-based instruction of reasoning and proof in Trinidad and Tobago," which encompasses a study he conducted on how a secondary schoolteacher in Trinidad and Tobago implemented opportunities for reasoning and proof in geometry. Hunte's findings could assist reformers and policymakers with understanding the interplay between reform-based policies and classroom instruction.
"This opportunity in San Antonio speaks to the excellence of how the College of Education at Illinois initiates in its international and U.S. doctoral graduates the ability to continue their scholarly work after graduation," Hunte said. "Moreover, it demonstrates the exemplary instruction and mentorship provided through my doctoral adviser, Dr Gloriana Gonzàlez, as well as other instructors during my studies."
Since graduating last year, Dr. Hunte has presented at international conferences in Germany and Arizona. He is an assistant professor of mathematics at the University of Trinidad and Tobago, where he teaches undergraduate engineering and education courses.
Hunte is also the program leader of the Department of Foundations and Prior Learning, overseeing multiple units that include the fields of mathematics, chemistry, physics, health, safety, and the environment.