EPOL professor to give keynote at diversity conference
by the College of Education at Illinois / Mar 13, 2017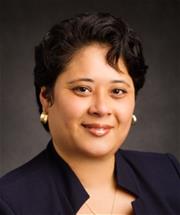 Dr. Adrienne Dixson will give a keynote presentation at the March 24 Diversity in Education Conference at the University of Iowa. Her talk, "Yes, we did?: Education equity in a new post-racial society," will contest the notion that society is currently in a fresh, post-racial phase.
"I will offer ways that critical race theory helps us make sense of 'post-racial' racism in education," said Dixson, an associate professor in the Department of Education Policy, Organization & Leadership.
Dixson will also facilitate an interactive session for faculty members and graduate students on how scholars can engage in critical race theory in educational research.
The daylong conference will feature an award ceremony, breakout sessions, a film, and a question-and-answer discussion with Curtis Chin.