Hong Kong talk by C&I professor made possible by College collaboration
by the College of Education at Illinois / Feb 24, 2017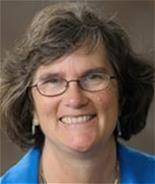 Education practitioners, professionals from various fields, students, and parents gathered together on Feb. 13 in Hong Kong to hear a talk by Sarah J. McCarthey called "Teachers' Curricular Enactments in Writing Instruction." The event was co-sponsored by The Yew Chung Education Foundation and the Hong Kong chapter of the Pacific Early Childhood Education Research Association (PECERA-HK).
McCarthey's presentation—attended by more than 100 people—was made possible through the collaboration between the College of Education and The Yew Chung Education Foundation, founded by Betty Chan.
Chan did doctoral work in the College and was awarded an honorary degree of doctor of humane letters in 2010 by the University of Illinois, in recognition of her outstanding work and research in education.
She also established the Yew Chung – Bernard Spodek Scholar in Early Childhood Education fund, which currently supports Stephanie Sanders-Smith, an assistant professor in the Department of Curriculum & Instruction.
"Betty Chan's efforts in establishing international schools in Hong Kong and China, the community college, and PECERA in Hong Kong enhance our cutting- edge curricula in early childhood education," said McCarthey, the director of teacher education in the College and a professor in the Department of Curriculum & Instruction. "The collaboration also enhances the College of Education's presence in Asia."
McCarthey's talk focused on a qualitative study encompassing 20 teachers in the U.S. who enacted mandated writing curricula in their schools. Her presentation also gave an overview of curricular policy in the U.S. and offered suggestions for curriculum and instruction in early childhood classrooms in global settings.