May Stoesser Scholarship honors legacy in teaching excellence
by Sal Nudo / Feb 22, 2017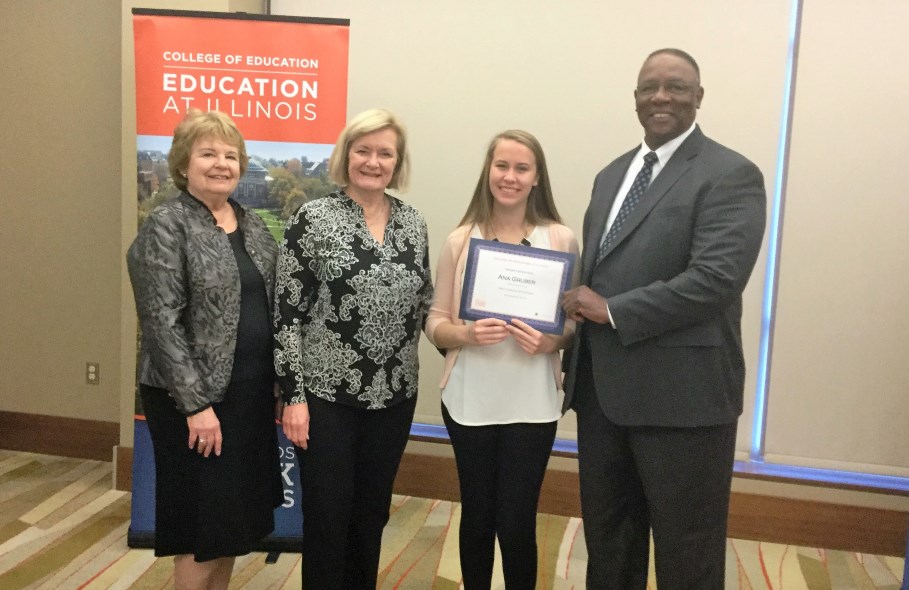 Irene Stoesser, Barbara Mengarelli, Ana Gruber, and
Interim Dean James D. Anderson at the 2016 Student Recognition Brunch
When alumna May Larson Stoesser returned to the College of Education in 1998 for her class's 60th reunion, it didn't take long, according to one of her daughters, before several students at the Education Building were sitting around her in a half circle, listening intently and freely sharing their educational aspirations while learning about classroom tactics. As someone who was always curious about other people, the now-deceased May simply had that engaging effect on people of all ages.
"She was more or less interviewing them and asking them their interests, their goals, and they were enthralled," said Barbara Mengarelli, one of May's four children who accompanied her mother to the Illinois campus that weekend.
Born in Sweden in 1916, May seemed destined to become an educator, which she was for more than 30 years as a kindergarten and primary teacher in the Chicago Public Schools. Her talent, passion, and dedication inspired her four children—Katherine (71), Irene (69), John (66), and Barbara (63)—to establish the May Larson Stoesser Scholarship in memory of their mother. The gift supports students studying in elementary education.
Befitting their mother's legacy in education, the scholarship is based upon the teaching excellence of May, who received her bachelor's degree from the College in 1938.
"Each teacher is going to be impacting, over the course of their career, several hundred students, if not more, so to do something that's a lifelong legacy to our mother, who had a very young, eternal spirit to begin with, is very fitting," said Barbara, who graduated in 1976 from the University of Illinois at Chicago and had a career in occupational therapy.
The gift in May's name demonstrates in perpetuity her positive role in impacting thousands of children's lives. In establishing the scholarship, the siblings were conscious of how much their mother loved her time at Illinois, where she attended school after receiving a teaching certificate from Chicago Normal.
"She loved the U of I," Irene said. "From when we were little we would start hearing about her year at the University of Illinois and the friends she made and the experiences she had."
Barbara, who "bleeds orange and blue" and spent three years at the Illinois campus before completing her degree at UIC, added: "By seventh grade I knew I was going to the U of I."
May married John Stoesser in 1943, and the two spent their succeeding decades together raising children, traveling the world when they could, and later enjoying their seven grandchildren and three great-grandchildren. May passed away in 2015 at age 99, and John died in 1991.
A capable pianist and avid choir participant in the Swedish Choral club who conducted music-based activities in her classrooms, May was active in her church throughout her life. In her 20s she started the Women's Board of the Swedish American Recreation Club. Later, following retirement, she volunteered at St. Matthew's Home, tutored at Edgebrook School, became president of the Edgebrook Woman's Club, and was selected for the Delta Kappa Gamma International Society of Key Educators.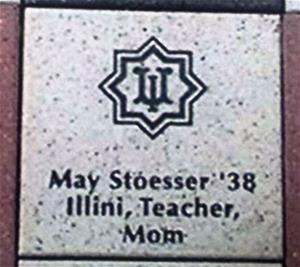 During her lifetime, May was known as a person who lived each day to the fullest with gratitude and joy, according to Barbara. She saved letters, notes, and articles related to her life and career, and enjoyed keeping University of Illinois artifacts, which included Illini football tickets and issues of The Daily Illini. One of May's saved UI treasures was an article from a College of Education newsletter about her 1998 reunion visit at the Education Building.
The piece included May's "Top Ten Tips from a seasoned educator," advice that is sensible, practical, and timeless. At that point the Education alumna had been retired from teaching for more than a decade, and she understood that classrooms had changed a great deal since her teaching heyday. Nevertheless, May said in a speech to students "that the values and attributes necessary for the development of responsible citizens remain the same."
May devoted a large part of her life to teaching and—as a youthful, eternal optimist herself—being a positive role model to thousands of children. Perhaps her philosophy on education is best summed up in a quote from the late '90s College of Education article in which she said to a group of students: "It is an awesome responsibility to be the keeper of a child's time and learning!"
Thanks to the gift established by her children, May's philosophy will live on in the lives of future educators.
May Stoesser's Top Ten Tips from a seasoned educator:
Recognize individual differences and help each child to develop his/her greatest potential. This includes providing a variety of materials so that every child can experience the satisfaction of success at his/her highest level.
Prepare lesson plans in detail. Consult the teacher's manuals and guides for the textbooks; the authors are experts in their field. Assemble correlating materials that might enrich the lesson and provide for individual differences. Be creative.
Establish a learning environment. Keep the classroom attractive; provide interesting learning centers, keeping in mind the abilities of all students. Set certain standards for their behavior, and expect them to be observed.
Be sensitive to the feelings, emotions, and attitudes of the students. Motivate, encourage, stimulate to create self-confidence and a good self-image.
Care for the children—have a heart—love—listen—be fair. Have a sense of humor.
Treat students with the same courtesy and respect expected from them. Be kind, and encourage the children to show kindness toward each other.
Praise, praise, praise—look hard enough and everyone can be sincerely praised for something!
Let the children know that their best efforts are expected. Remember, children will strive to meet your expectations.
Continue learning; read educational publications.
Pay attention to personal appearance; wear something appropriate and becoming, and a smile.