Small College with a Big Heart
by the College of Education at Illinois / Sep 6, 2016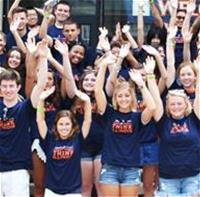 Education at Illinois faculty, staff, and students welcomed the Class of 2020 to the family in enthusiastic orange and blue style in the courtyard of the Education building on August 19. Our newest "great minds" were buzzing with excitement (and possibly a little sugar) as they met their fellow classmates, checked out student groups and volunteer opportunities like SOAR, and heard from Interim Dean James Anderson and Associate Dean for Academic Programs Chris Span.
"I am beyond excited about the Class of 2020 becoming a part of our close-knit community," said Span, who leads the Student Academic Affairs Office. "Our freshmen hail from all over Illinois and several other states. Their diverse backgrounds, their life experiences, and their choices of study will complement and enhance our College."
Our eager and optimistic students share the belief that an educated citizenry is essential to a democratic society. During the summer, we renovated classrooms into flexible learning spaces with the latest technology and designed 11 study abroad classes for the coming year, which was in response to a 300 percent increase in participation last year, thanks in part to an automatic $500 scholarship for each student who studies overseas. With extra advising hours scheduled and technology specialists on hand, we can't wait to help these future teacher leaders get started.