Special Education scholar receives NSF funding
by the College of Education at Illinois / Sep 2, 2016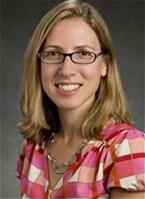 Maya Israel, an assistant professor in the Department of Special Education, is the principal investigator of a research project funded by a grant from the National Science Foundation for $599,829.
Cinda Heeren, a senior lecturer at the Department of Computer Science, and George Reese, director of the Office for Mathematics, Science, and Technology Education, will be co-principal investigators on the project.
The 36-month project, "CS for All: Engaging Struggling Learners in Computer Science Instruction," will center on making computer science education academically accessible to elementary and middle school learners who struggle, with a focus on students with disabilities and students at risk for academic failure.
Israel's team will investigate the challenges that students with disabilities and others at risk for academic failure face during computer science instruction. Their objective is to develop interventions to address those challenges according to research-based practices from other content areas.
Israel said computer science traditionally has been out of reach for many students with disabilities and requires complex problem solving, persistence, and intentionality.
"Our early research points toward strategies that increase the likelihood that students with disabilities will experience success," said Israel. "When this happens, students feel empowered and excited at being technology creators, not just consumers. We are thrilled to have the opportunity to explore these strategies in an in-depth way over the next three years so that more students can experience that success."
The project will begin in October.