EPOL Ph.D. candidate chosen as Spencer Dissertation Fellow
by College of Education / Jun 28, 2016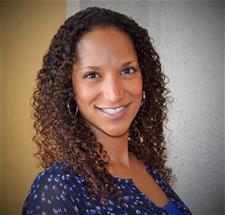 Alisha Johnson, a Ph.D. candidate in the Department of Education Policy, Organization & Leadership, was chosen as a 2016 National Academy of Education/Spencer Dissertation Fellow. Johnson was one of 35 fellows selected among nearly 400 student applications from more than 100 graduate institutions.
"This has been a goal of mine from the beginning of my doctoral studies, so to see all of the planning, writing, revising, and waiting bear fruit is the push I needed at this point in my work," Johnson said. "To have my work held up to the scrutiny of the most prestigious scholars across the field, and to have them find substantial merit in it, inspires me to contribute research that reaches the potential they've seen. At the same time, it is a strange feeling to have something I've been anticipating become my present rather than a future goal."
With the funding she will receive, Johnson said she will now have the opportunity to fully synthesize the evidence she has collected and write about it.
"A Spencer award creates spaces for professional development, mentorship, and feedback focused solely on my own work, luxuries few ever enjoy in such a concentrated manner," Johnson said.
The Dissertation Fellowship Program is part of the National Academy of Education's effort to encourage outstanding new scholars from many disciplines to bring their insights to bear on issues related to education. While the $27,500 award serves the practical end of supporting the fellow in finishing the dissertation, other dimensions of the award support the fellow in becoming part of a research community interested in educational issues.
The fellows are invited to participate in two meetings during the fellowship year in Washington, D.C., where they will have the opportunity to interact with NAE members and the NAEd/Spencer Postdoctoral Fellows. At both meetings, the fellows are given opportunities to share their work with each other and more senior scholars.