Education at Illinois home to three top 10 graduate programs
by the College of Education at Illinois / Mar 16, 2016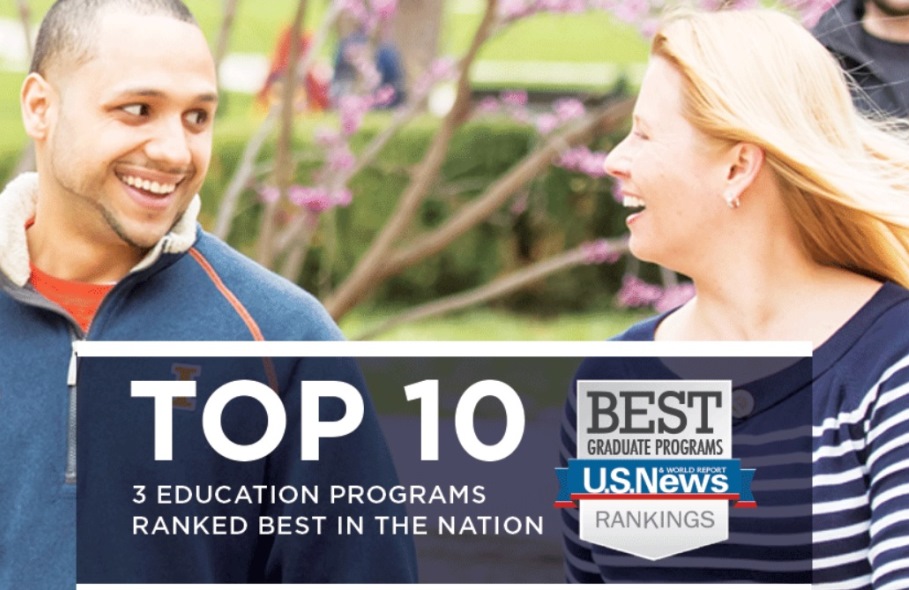 College recognized among the top 25 as ranked by U.S. News & World Report
Education at Illinois continues to be ranked by U.S. News & World Report as a top 25 college of education nationwide. The College was ranked by the publication at No. 23 overall (tied with Boston College), moving up one spot from last year.
In addition, U.S. News ranked three of the College's graduate programs in the top 10: Curriculum & Instruction (No. 10), Educational Psychology (No. 7), and Special Education (No. 10).
"Education at Illinois creates knowledge and programs that continue to positively impact society and learning communities worldwide," said Dean Mary Kalantzis. "We are key contributor to educating the next generation of diverse scholars who populate academia throughout the world."
In January, U.S. News ranked the Education at Illinois online programs as among the country's elite, positioning them at a tie for No. 7 out of nearly 200 universities. The programs ranked highly in several key areas, including a tie for No. 1 in faculty credentials and training—making Education at Illinois No. 1 in this category in the BIG10 and nation—and No. 17 in student services and technology.
Dean Kalantzis noted at the time that the College's online courses are designed and delivered by outstanding scholars who are committed to cutting-edge pedagogy and to expanding access to populations that are underserved by higher education.
The College of Education at Illinois is a world-class institution recognized for its groundbreaking research, the preparation of leaders in education, and community outreach and service. View the Best Education Schools as ranked by U.S. News & World Report.