No. 7 ranking by U.S. News places Education's online programs among country's elite
by the College of Education at Illinois / Jan 12, 2016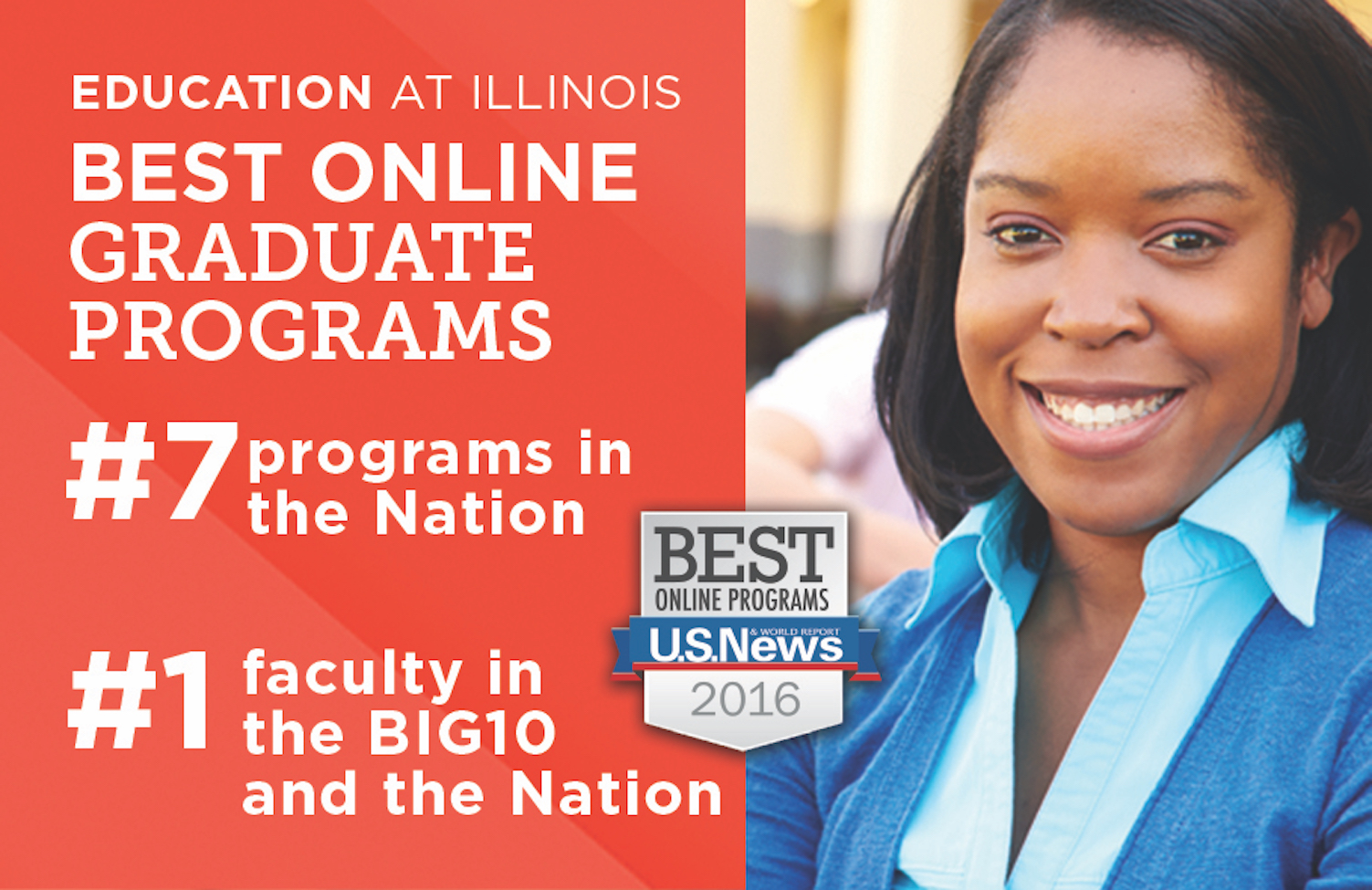 Programs ranked high in several key areas, including a tie for No. 1 in faculty credentials and training
The College Of Education at Illinois is home to one of the nation's top-ranked online graduate education programs, according to the latest U.S. News & World Report rankings of the 2016 Best Online Programs. The College's online programs tied for 7th place out of nearly 200 other universities.
The programs ranked highly in several key areas, including a tie for No. 1 in faculty credentials and training—making Education at Illinois No. 1 in this category in the BIG10 and nation—and No. 17 in student services and technology.
"We're extremely proud to see our renowned faculty in online learning receive this recognition, and we're also grateful to our talented students and staff," said Cris Mayo, director of Online Learning.
Dean Mary Kalantzis said the University of Illinois online offerings in Education are outstanding because they were created in a research-intensive institution.
"Our online programs are embedded in a context where we are using innovative methods and technologies, and we are also leading researchers and developers of these environments," said Kalantzis.
Education at Illinois offers online graduate degrees, certificates, and endorsements for educators working in both the public and private sector from pre-kindergarten through post-secondary. The College also offers programs for trainers, developers, designers, and managers in human resource development and instructional technologies.
"Courses are designed and delivered by outstanding scholars committed to cutting-edge pedagogy, while also expanding access to populations underserved by higher education," said Kalantzis.
Lynette Correa-Velez, an online graduate student in the Human Resources Development program, said the program's affordability and online evening courses helped her work/life integration and provided a better quality of life for her family. She is also thriving workwise thanks to the program.
"The classes have challenged me in what I've learned from the 'real world' during my 12 years of professional work experience and will tremendously assist my professional life," Correa-Velez said.
Education at Illinois is a pioneer in the science of education as it was one of the first colleges on the University of Illinois campus to provide an online degree program and has continually expanded its curricula since its launch in 1998.
View the Education at Illinois Online and Off-Campus Programs and discover our online students and graduates who received a topnotch education and are now making a lasting impact on society:
Isa Adney
Mark Emmons
Stacy Kelly
Fauzia Rahman

More online innovation and opportunities in the College:

GSE students investigate refugee crisis
Fulbright recipient at College an online innovator
College's first MOOC course