Education alumni spearhead improved Hispanic retention at local community college
by Sal Nudo / Dec 22, 2015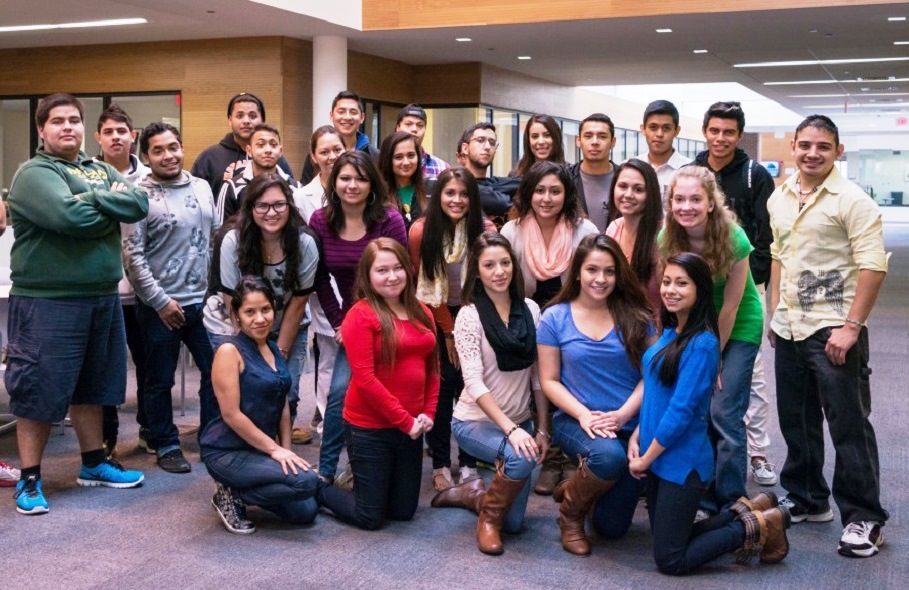 Latina/o students in Parkland College's peer-to-peer mentorship program
Moises Orozco, Ed.M. '09 EPOL, Ph.D. '15 EPOL, is a 31-year-old father of three children but says he feels 21. Perhaps his youthful enthusiasm was one of the factors that helped him and doctoral student Eduardo Coronel, Ed.M. '13 EPOL, make the Comadre y Compadre Program (CCP) at Parkland College in Champaign such a resounding success.
As co-coordinators of a program that sought to increase the low retention rate of Parkland's Latino/a students—typically around 35 percent—Orozco and Coronel oversaw a grant-funded initiative in which the retention rate for Hispanics at Parkland increased by 146 percent. A school's retention rate gauges the number of freshmen who continue their studies into their sophomore year.
CCP was funded by Parkland's Inspire, Develop, Engage, Assess, Sustain (IDEAS) grant of $70,000, a small investment that generated large positive outcomes for underrepresented students in Orozco's view. Under the duo's leadership, CCP mentees and mentors increased their academic performance by 2.4 percent and 12.8 percent, respectively.
The program's mission went beyond academics, according to Orozco, who works in the College of Liberal Arts & Sciences (LAS) at the University of Illinois as an associate director in Recruitment and Admissions. Orozco said providing the Latina/o students with a sense of belonging on campus and among their academically successful Hispanic peers were also goals of CCP, as was fostering community outreach efforts in Champaign-Urbana, Arcola, and Rantoul. In all, CCP connected with more than 380 Latino/a families and students in District 505.
"We wanted to be an outlet for them, a touchpoint to really give them a sense of identity," said Orozco, a first-generation college student in his family. "Assurance that, yes, this is an investment and they need to continue to invest in this opportunity that they have to pursue an education after high school."
CCP's success hasn't gone unnoticed. It was recognized by the U.S. Department of Education as a Bright Spots program in the White House Initiative on Educational Excellence for Hispanics, which seeks to enhance the educational attainment of Hispanics through data-driven approaches, peer-to-peer interaction, and valuable partnerships.
"We were just enacting a lot of the things we learned at the College of Education."
- Eduardo Coronel
Coronel said the 60 Latina/o students in CCP were of varied ages and were bright, self-sufficient, and capable but also overextended with numerous responsibilities outside the classroom that hindered their academic progress. He said he and Orozco served as "institutional agents" at Parkland, middle men, so to speak, who could help students navigate financial, familial, and class-related barriers to become "agents of their own transformation."
"We were just enacting a lot of the things we learned at the College of Education, which is a lot of social justice work and a lot of student-centered pedagogies and student-centered theories that allowed us to find solutions that were meaningful and helpful to them," said Coronel, who is pursuing an EPOL doctorate degree and currently in Los Angeles conducting an ethnographic case study on high school students.
These academic improvements for people of color at Parkland occurred at an opportune time, according to Professor Eboni Zamani-Gallaher, who is the director of the Office of Community College Research and Leadership in the College of Education. Zamani-Gallaher believes community colleges are demographic microcosms of society and said the largest underrepresented racial/ethnic minority student group at two-year colleges in Illinois is Latinos. She said people of color will make up the demographic majority in the U.S. by 2043, with Hispanics representing the largest racial/ethnic minority group.
"The literature on mentoring for students of color indicates higher grade-point averages and persistence rates as opposed to those that have not been mentored," said the professor in the Department of Education Policy, Organization & Leadership. "The Comadre y Compadre Program at Parkland College that Dr. Moises Orozco Villicana and Eduardo Coronel led is a great case in point for best practices in the matriculation and success of Latina/o students."
CCP began as a pilot program in 2010 by Dr. Tom Caulfield, a 1981 U of I LAS graduate who is now director of Student Life at Parkland. At the start of the new decade Caulfield studied data on Parkland's Hispanic students and noticed their high trend of "stop outs" as he called them. Stop outs were Caulfield's term to describe when Hispanic students quit school at Parkland before graduating. He wrongly assumed at the time that this group of students stopped attending school because of academic reasons.
"Eight times out of ten, it had nothing to do with academics," Caulfield said. "It was family stuff. It was work."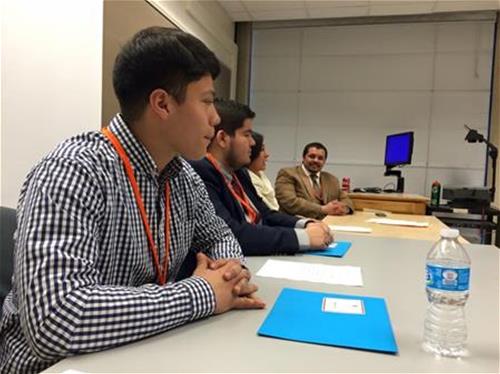 Orozco, Coronel, and three of the CCP students they mentored were recognized with the "Best Presentation" honor at the 2015 College of Education Graduate Student Conference. After an introduction in which Orozco and Coronel conveyed the basics of CCP, they let the student mentors relate how they served as leaders at Parkland and were making a difference.
"In this way, they became the experts in the room," Coronel said.
Experts themselves, Orozco and Coronel have utilized their research in the College and their hands-on work at Parkland to co-write a book chapter called "From the Margins to the Forefront: Cultivating Leadership among Latina/Latino Students in the Community College." The chapter is included in the book Latina/Latino College Student Leadership: Emerging Theory and Promising Practices, published by Lexington Books.
Orozco said none of the success of the students would have been possible without Parkland's institutional buy-in, funding, and overall support. Through Parkland's assistance Orozco and Coronel worked tirelessly to help students improve their grade-point averages and remain in school; assisted 10 mentees into becoming mentors; conducted workshops on time management; and witnessed highly motivated Hispanic students ascend to four-year colleges, expanding their lives beyond junior college.
"It's not just about supporting them," Orozco said. "It's ensuring that they thrive at the community college and see their experience there as a stepping stone to their future."

Read Moises Orozco's blog posts about the Comadre y Compadre Program at Parkland College.
Top photo courtesy of Parkland College