Gift from '77 COE alumnus MuKeun Lee assures topnotch research by doctoral students for years to come
by Sal Nudo / Apr 24, 2014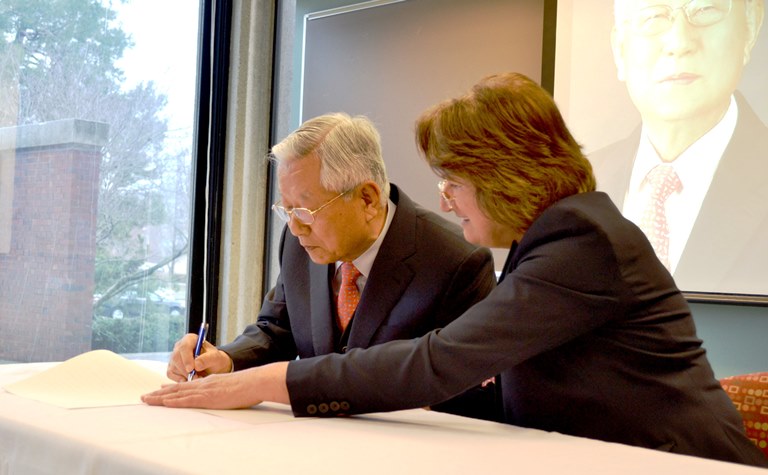 Dr. MuKeun Lee has accomplished many things in his life, and now he is making certain that future doctoral students in the College will be able to do the same thing.
Starting in 2014, the MuKeun Lee Dissertation Scholarship will provide funding each year for a student working on a dissertation related to the topics of human resource development and/or workplace learning. Lee said he provided the gift to pay back the College that taught him so much, and because he's familiar with the tough financial issues students face.
"I just tried to help a little," said Lee, adding that he hopes his gift will motivate students to produce the highest-quality dissertations.
Ron Jacobs, a professor in human resource development and the College's director of the Office of International Programs, said Lee's gift will enhance the level of students' research. Dissertations often require travel expenses or technology or software needs, and Lee's gift will help cover those things.
"It might give a person more flexibility and ideas of what to do because they feel like they have the means to do it," said Jacobs. "Anything related to supporting research would be appropriate."
Lee did his own research for the College in the 1970s as a student, earning a doctorate in vocational and technical education in 1977. Jacobs jokingly referred to him as "Mr. Vocational-Education in South Korea" and said the work Lee did in helping develop the country's industrial policy and workforce was phenomenal.
During a career that spanned more than 40 years, Lee founded one of the first vocational doctoral programs in South Korea at Seoul National University, was the first president of the Korea Research Institute for Vocational Education & Training, and served as president of Kyungil University and Dongmyung University. He was also made a fellow of the Korean Academy of Science and Technology and received the Blue Stripes Medal in the Order of Service Merit—the highest honor presented by the South Korean president to educators.
Dean Mary Kalantzis observed and spoke at the signing ceremony for the new award.
"The College's continuing excellence rests on the shoulders of great alumni like Dr. Lee, who help make it possible for us to attract and graduate the very best students. His legacy lives on through the examples of his great works as well as his significant generosity," she said.
According to Jacobs, who has known Lee since the mid-1990s, the UI graduate is a dedicated scholar whose numerous contributions to the field of education brought well-deserved attention. Lee was recognized by the College as a 2013 Distinguished Alumni Award Winner and by the University as a recipient of the Madhuri & Jagdish N. Sheth International Alumni Award for Exceptional Achievement in 2013.
"Being recognized for two consecutive years, that's really, really special," Jacobs said. "I think he felt gratitude that that opportunity was given to him."
Lee's generosity and well-known name belies his humbleness and quiet demeanor, according to Jacobs. His legacy of helping improve the knowledge and opportunities of others is further underlined by his gift to the College. It will ensure a bright future for countless students going forward.
Read more about Dr. MuKeun's recognition as the recipient of the 2013 Madhuri & Jagdish N. Sheth International Alumni Award for Exceptional Achievement.