Scholarship connects alumna and student from worlds apart
by The College of Education / Nov 8, 2013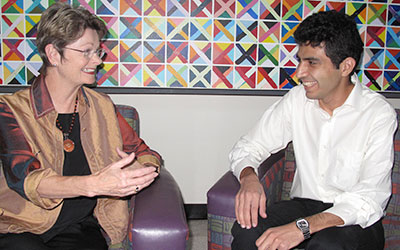 Alumna Donna Reichmann earned her master's degree in education in 1970. When she could not find a teaching job in the States, she took a leap of faith and travelled to Iran where she taught for three years.
She has since enjoyed a successful teaching career and has founded her own consulting firm, Leadership Solutions, based out of North Carolina. Today, Reichmann credits her success to the education that she received at the University of Illinois.
To give back to Illinois in gratitude for that education, Reichmann created the Donna Reichmann Award to support graduate students interested in human resource development. Each year the award supports one graduate student who would not otherwise be able to continue their studies at Illinois. "I did not realize how much scholarship support meant to students when I started this. I have been privileged to meet several of the students over the years who received my scholarship, and every one of them has been incredibly bright and talented and committed to education," she said.
Reichmann returns to campus each year so she can meet the recipient of her scholarship, and this year she found a unique connection with her student. Amir Hedayati Mehdiabati is from Iran.
After chatting for a bit and sharing their stories, Reichmann left realizing that she does not just give to the College of Education, she makes Amir's dreams possible.
Mehdiabati was able to come to the United States to pursue a doctorate in Education Policy, Organization and Leadership with a specialization in Human Resource Development. Since starting the program, he has presented two papers at a recent HRD conference in Washington, DC.
"The financial aid provided by this scholarship is important because it helps me to focus on my studies," said Mehdiabati. "I want to be a good researcher and an excellent teacher. These two are my main goals in life."
Reichmann attributes the diverse student body and curriculum at Illinois with preparing her for the world beyond her rural upbringing. She feels that the University has given her a lot, including a global perspective, and that she has a duty to give back to current students.
"Giving back is important," she said. "I tell students when I'm back on campus about the Foundation and the need for supporting their alma mater when they are able to do so. I'm delighted there is now an 1867 student society. We are a land grant public university in an era when state funds are dramatically decreasing and private support is vital to the University of Illinois mission."
To learn more about supporting the College of Education at Illinois, contact Lisa Denson-Rives at lkdenson@illinois.edu or 217-300-2752.