Teacher collaborative (INTC) releases guide to support new teachers
by Sharita Forrest / Sep 18, 2013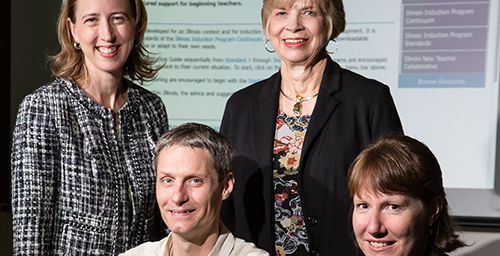 SEPTEMBER 18, 2013, UI NEWS BUREAU, CHAMPAIGN, Ill. — When school bells began ringing a few weeks ago to convene a new academic year, thousands of novice teachers embarked upon their first teaching assignments in Illinois. However, statistics show that within five years, about 30 to 40 percent of these new teachers will leave the profession, often as a result of a perceived lack of support from their schools' administrations.
To help Illinois schools support new teachers during their critical first few years in the classroom, the Illinois New Teacher Collaborative has developed a comprehensive resource, the Illinois Induction Guide.
Released online today (Sept. 18), the guide provides step-by-step advice on planning, designing and implementing induction and mentoring programs for new teachers and provides school districts with the tools for evaluating and refining existing programs.
Read entire UI News Bureau article…
PHOTO: The Illinois New Teacher Collaborative has published a comprehensive online guide to help school districts develop and refine induction and mentoring programs for novice teachers. INTC staff members involved in the project include, from left, director Patricia Brady; outreach coordinator Jeff Kohmstedt; assistant director Nancy Johnson; and student Alexis Jones. Photo by L. Brian Stauffer.