Autism Program's Linda Tortorelli one of six academic professionals honored for excellence
by Illinois News Bureau / May 1, 2013
APRIL 18, 2013, UI NEWS BUREAU, CHAMPAIGN, Ill. — Six academic professionals were honored with the 2013 Chancellor's Academic Professional Excellence awards at a reception held in April.

Now in its 25th year, the program honors the accomplishments and contributions of academic professionals, who perform a range of vital functions for the campus community. They provide critical support for administration, research laboratories and educational programs, and offer important outreach programs throughout the state.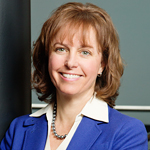 Linda Tortorelli, the program coordinator for The Autism Program (TAP), is the person that parents, child care workers, teachers and medical professionals turn to for help when a child who has been diagnosed with an autism spectrum disorder.

The program, affiliated with the Special Education department and the department of Human and Community Development, is part of a statewide network funded by the Illinois Department of Human Services. Tortorelli is responsible for managing the daily operations of the TAP
Resource Center, serving as the first point of contact for families, providing consultation to families and professionals, and implementing educational programs for children, parents and professionals.

Since the resource center opened in Doris Kelley Christopher Hall in 2007, it has served more than 2,900 clients, distributed more than 17,000 learning aids and produced more than 800 sets of customized educational materials for parents and educators.