Laura Ketchum one of eight honored with campus distinguished staff award
by The College of Education / Apr 23, 2013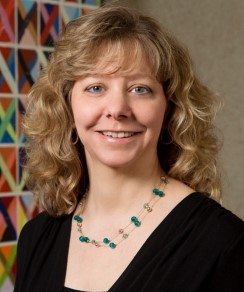 Laura Ketchum, the business manager I in the Department of Education Policy, Organization and Leadership (EPOL), has been bestowed with the 2013 Chancellor's Distinguished Staff Award. In order to receive such an honor, an individual must be recommended by the selection committee and the award endorsed by Chancellor Phyllis M. Wise.
Ketchum was recognized for exceptional performance along with other award recipients at a dinner and reception on April 22.

"Laura's work ethic, her high level of performance, her attention to detail and her ability to handle multiple and demanding tasks efficiently and effectively represent the highest level of professionalism and overall excellence," said K. Peter Kuchinke, professor of EPOL.
Ketchum joined the College of Education in 1997 when she started in the then Department of Vocational and Technical Education, which later changed its name to the Department of Human Resource Education, now part of EPOL. Including interim directors, Ketchum has worked for seven department heads over the past 16 years.
Prior to 1997, Ketchum taught elementary school in Castleton, Ind. She holds a B.S. degree in Social Science Education from Illinois State University.
About working for the College of Education, Ketchum reflects, "I was very lucky to have some fantastic mentors who helped guide me in my earlier years and have been very fortunate to continue working with a number of terrific, supportive people."