College of Education showcases research and community outreach in campus Public Engagement Symposium
by Allie Pitcher / Mar 6, 2013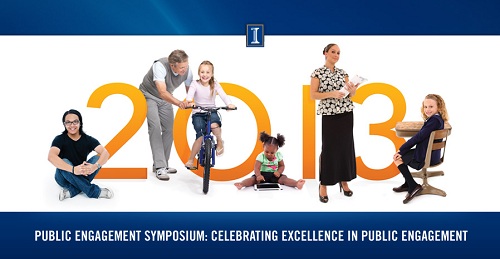 On February 28, 2013, the University of Illinois held its fifth annual Public Engagement Symposium to celebrate innovation in various fields through programs and organizations on campus. Students, faculty, and members of the community presented posters that displayed their projects and respective engagement with the public. The symposium was sponsored by the Office of Public Engagement and Online and Continuing Education.
Seventeen of the 57 groups represented at the event were affiliated with the College of Education. The organizations that participated from the College have objectives that range from research to improving the education of local children.
Megan Puzey, public engagement coordinator from the Office of Public Engagement, is responsible for the program's content and played an important role in making the event happen.
"This event is offered to enlighten, educate, and inspire; to strengthen relationships; and to develop a culture of engagement across the campus and local communities," Puzey said. "Our hope is that through this event, attendees learn from, support, and celebrate the quality and variety of our scholarly and creative community engagement efforts."
Natalie Danner, doctoral student in Early Childhood Special Education, was a part of one of the 17 groups at the symposium that represented the College of Education. She presented a poster on her organization, "CASA Strong Beginnings," with fellow Special Education doctoral student Catherine Corr. Their poster is an excellent example of how participating organizations seek to better the community in which they study or live.
"We are working with a community-based organization, Champaign County CASA, to develop and evaluate a training called CASA Strong Beginnings intended to help volunteers become better advocates for vulnerable young children in our community," Danner said.
CASA Strong Beginnings is a partnership between Champaign County CASA and the Department of Special Education and is like many others that were presented at the symposium in that it aims to improve education in the community.
The posters displayed at this year's Public Engagement Symposium were representative of the goal and purpose of most any organization: to strive to better the community through public engagement. The following poster presentations were entered by a department/unit/initiative in the College of Education or by a unit that is affiliated with the College:

• IECAM: Geographic Information on Services for and Demographics of Young Children in Illinois
• CASA Strong Beginnings: A Partnership between Champaign County CASA and the Department of Special Education
• I-STEM EDUCATION INITIATIVE: Engaging the Public to Promote STEM Education
• Working in Our Own Backyard: School-University Partnerships through the Center for Education in Small Urban Communities
• FIND Orphy
• Education Justice Project
• Programming with Etoys: Unit 4 Middle School Pilot
• Partnership in STEM Education: Student Engagement and Teacher Professional Development
• The Accessible Community (MSTE)
• Spanish Summer Camps for Children (University Primary School is a partner)
• A Unique STEM Collaboration: Tap In Leadership Academy and the University of Illinois
• Writing Together: Engaging Teachers and Students in the Illinois Writing Project
• The Public Engagement Portal (MSTE)
• KAMWAM (Krannert Art Museum Week at the Museum) (Partners include the Center for Education in Small Urban Communities and Champaign Public Schools)
• IEL & EIC: Providing Resources for Parents, Caregivers, and Teachers of Young Children in Illinois
• TCIPG Education and Engagement (MSTE)
• CUVolunteer/Community & Campus Day of Service (MSTE)