Bells ring for Ben and inspire kindness: Ben's Bells implemented via service-learning course at Illinois
by The College of Education / Jan 8, 2013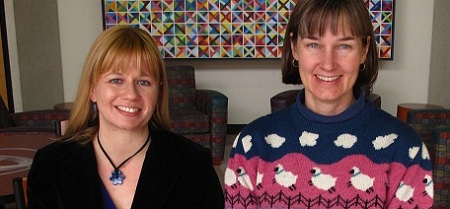 If you didn't know much about Ben's Bells, you might think it's a simplistic pay-it-forward campaign in which willing participants can feel better about themselves by performing a fleeting good deed—a warm and fuzzy moment in time.

You might think that, but you'd be wrong.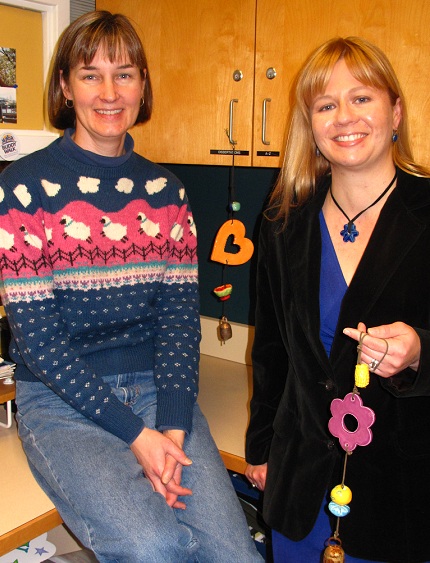 Although pay-it-forward campaigns are certainly worthwhile and can, indeed, make the world feel like a better place, Ben's Bells is a deeper, farther-reaching, and more meaningful project, spearheaded at the College of Education in the form of service learning by doctoral student Michelle Bonati. And what makes it more profound than an isolated act of kindness is what goes into making each Ben's Bell.

Undergraduate and graduate students enrolled in a Special Education course called "High School Service Learning" work with 130 secondary students with and without disabilities enrolled in art classes in local high schools over a period of six weeks. The preservice teachers and high school students collaborate to create the ceramic wind chimes, Ben's Bells, to distribute throughout the community at the end of each semester for individuals to randomly find, take home, and be inspired to perform acts of kindness.

Special Education associate professor Stacy Dymond, who has an unusual knack for being soft-spoken and extremely passionate in the same breath, describes Ben's Bells as anything but linear like the cotton cording that holds them together. "I think it's a complex project on many levels because we have many goals. For preservice teachers, we started this because we wanted them to understand what service learning is, and how to use it as a teacher," explained Dymond, who is Bonati's adviser. "We also wanted them to understand how to include kids with the most severe disabilities with their peers without disabilities. I think we've done well on those fronts in terms of giving them more experience in how to do that."

In fact, one might picture a Ben's Bell, each uniquely made, with its varied brightly-colored ceramic shapes and the bell hanging at the bottom to symbolize its very essence, or lifeline, if you will. The shapes could represent the different levels or outreach components of the project, of which there are many—all the people of various abilities who hand craft ceramic pieces for the chimes and the individuals who implement the program across the country, as well as those involved in classroom teaching and learning. The unique and beautiful ceramic shapes could also represent the many lives that are touched by the simple act of receiving the bells, and in turn, it is hoped, the act of showing kindness to others.

At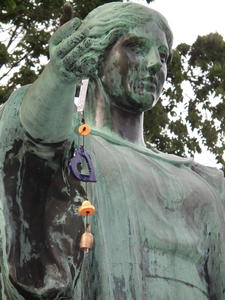 the risk of over-simplifying, the bell itself could represent Ben, for whom the project was started. Ben's mother, and a friend of Bonati's, Jeannette Maré, founded Ben's Bells in Tucson in 2002 following the death of her son, Ben. "Since Ben's death, it had been the kindness of others, strangers and friends, that had helped us begin to heal. We wanted to find a way to pass on that kindness and to help others in the process," it states on the Ben's Bells website.

As far as the classroom and the project's impact there, Dymond said that for many kids, taking part in the project "is the first time they really had a class with a student with severe disabilities and had the expectation that they would work with those kids and do something collaboratively. I think there's some benefit there to understanding how everybody can give to their community," she explained, stating that often schools offer service projects where high school students benefit people with disabilities, but not work alongside them, get to know them, and create something together.

"This is very different because we've created a situation where they work together to benefit the broader community, not (just) people who are perceived as having needs," Dymond said.

Bonati said she was pleasantly surprised at the level of involvement of the high school students, especially male students, in the project. "They were really excited to work on their first collaborative art project that goes out into the community and shared with others," she said.

Ben's Bells was formally introduced to Urbana-Champaign in the spring semester of 2012 with a $5,400 seed grant from Action Research Illinois. The Special Education course provides preservice teachers "hands-on experience implementing an arts-based service learning project while learning the fundamental knowledge and skills of k-12 service learning pedagogy," according to the grant application.
Linda writes...

What a lovely surprise to find one of these bells this morning at the Urbana Free Library here in Urbana. It is also my birthday, so maybe Ben was watching. LOVE my bells, the project, the message.
Then in the fall of 2012, the project received $2,000 in additional funds (from Action Research) to help the local project grow via monthly community outreach events with other organizations both on and off campus, such as the Student Union Board and The Champaign County Down Syndrome Network. On February 8, in the last of the currently scheduled outreach events, project participants will visit University Primary School to talk about Ben's Bells and make ceramic bell pieces with 40 first-grade students there.

During the monthly events, called "Be Kind Illinois," not only can individuals make artwork for the bells, but information about the mission and history of the project is also shared, according to Bonati. Two Special Education master's students, Rebecca Springer and Ariana Dymerski, have been helping organize and run the monthly events.
Bonati said she is grateful to have been a part of the entire Ben's Bells experience thus far, from bringing it to our local community to working with College of Education students to seeing the bells created to hearing the feedback from those who have found a Ben's Bell. "I'm glad to be able to have the opportunity to keep the excitement going about Ben's Bells," Bonati said. "In addition, to have an adviser to work with me on a project like this—to co-teach and to provide such extensive grant support—is quite exceptional," Bonati added.
Jean, Prince of Peace Lutheran Church writes...
…Truthfully my first thought was 'how pretty,' and then, 'wow, that was very nice of someone.' Upon reading the attached note I realized that this one bell was meant for all of us here. This bell encourages those of us who are trying to help not to forget how our 'small kindnesses' are part of a bigger world and let's be honest we all sometimes need that encouragement. It is a small but powerful reminder that we are not alone and even more it has become a great teaching tool for the families of our congregation and the children in our school. In just a few short days its message has touched so many and it will continue to do so...

Photos:
Top photo: Stacy Dymond, associate professor in the Department of Special Education, and doctoral student Michelle Bonati, who brought Ben's Bells to the University of Illinois and Urbana-Champaign and surrounding communities.
Middle photo: "Alma" (as in Illinois' Alma Mater Group sculpture) spreads kindness with a Ben's Bell; photo by Ralph Bonati.
Bottom photo by Robin Scholz of the News-Gazette
Editor's note about Ben's Bells at the University of Illinois:

Michelle Bonati, doctoral student in the Department of Special Education, co-taught the first semester of the service-learning (SL) course in the spring of 2012 and coordinated the placement and implementation of the SL project with the preservice teachers. She will co-teach the course this spring and serve as the SL project coordinator.
Stacy Dymond, associate professor in the Department of Special Education, is the grant coordinator, as well as co-teacher of the course.
Jay Mann, director of the Office of Clinical Experience for the Department of Curriculum and Instruction in the College of Education, recruits secondary level preservice teachers for the course and provide guest lectures.
Robin Douglas, administrative coordinator for the School of Art and Design in the College of Fine and Applied Arts, disseminates information about the course and helps recruit art education preservice teachers.
Community partners—high school teachers in Champaign County—also participate to ensure a successful SL project. They enable preservice students enrolled in the course to work with their students. So far, the teachers involved in Ben's Bells represent Rantoul Township High School and Central and Centennial high schools in Champaign.