Rosa Milagros Santos to receive prestigious Merle B. Karnes Service to the Division award
by The College of Education / Sep 25, 2012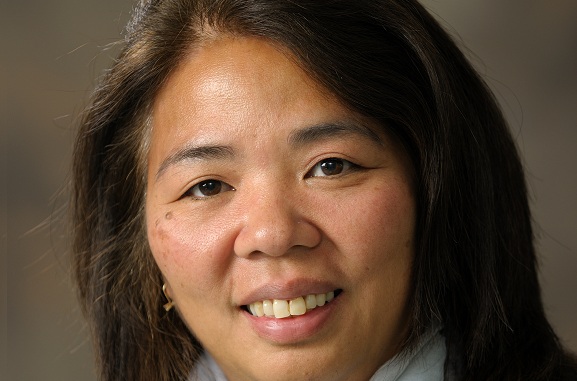 The Division for Early Childhood (DEC) of the Council for Exceptional Children has named Special Education Associate Professor Rosa Milagros Santos the 2012 recipient of the Merle B. Karnes Service to the Division award. This award is given to a DEC member who has made a significant contribution to the division in areas of leadership, service, research, advocacy, or publications.
In addition, Laurie Jeans has been selected as the 2012 J. David Sexton Doctoral Award winner. This award is given to a doctoral student who has made contributions to young children with special needs and their families through their efforts in research, higher education, publications, policy, and information dissemination.
Santos and Jeans will be honored at the 2012 Annual DEC Conference to be held in Minneapolis in October.
"The fact that this prestigious award is named after Dr. Merle Karnes, a distinguished member of our faculty and who many consider as one of the founders of early childhood special education, is truly an honor," Santos said. "I never met Merle but I know and have heard so much about her work and to have my name be associated with hers through this award is very humbling."
DEC past president Kristie Pretti-Frontczak notified Santos that she had won the award. "As those who nominated you, wrote letters of support, and work alongside you recognized, your leadership within DEC continues to be an incredible necessity and gift," Pretti-Frontczak wrote. "Your leadership as the President of DEC guided the Division through changing and challenging landscapes. Your advocacy, generosity, and work ethic has made the organization stronger not only in the immediate future but for the long term."
Santos said she joined DEC as a master's student. "Since then, DEC has been my professional home," she explained. "When the opportunities came for me to serve on committees or on the Executive Board, I saw it as my chance to give back to this organization that has given me so much through the years.
"The work that we do on DEC does not stop at the organization level; I know that all of the work we do through DEC extends to our field as a whole because of the influence this organization has on policies, research, and practices at the federal, state, and local level that impact the lives of young children with disabilities and their families," Santos added.
Former student Amanda Quesenberry wrote the following about Santos, "In all of my experiences with Amy, I have found her to be extremely knowledgeable on various subjects in early childhood special education including early childhood development, partnering with families of children with special needs, and recognizing and honoring the culture of each child and family.
"Amy is always on the cutting edge, integrating technology into the courses she teaches. She spends a great deal of time working on behalf of the students while also providing constant encouragement for the students to advocate for themselves," wrote Quesenberry, who is now an assistant professor and Early Childhood program coordinator at Illinois State University.
Last year's winner of the Karnes award, Robert M. Corso, assistant research professor at Vanderbilt University, supported Santos' nomination by writing the following: "I have had the opportunity to work closely with Amy on several research and service activities. She is a premier researcher and enhances the scholarly endeavor with her work and commitment to the field. Over the past 15 years that I have known Amy, I have never seen her turn down a request or opportunity to serve.
"While the sheer quantity of activities and time that Amy has dedicated to the Division is impressive, what is most important is that her contributions have been significant and the Division is greatly improved because of her efforts," Corso wrote.
DEC is one of 17 divisions of the Council for Exceptional Children, the largest international professional organization dedicated to improving educational outcomes for individuals with exceptionalities, students with disabilities, and the gifted. The organization's mission is to promote policies and advance evidence-based practices that support families and enhance the optimal development of young children who have or are at risk for developmental delays and disabilities.
Santos joined the faculty in the Department of Special Education at the College of Education in 2000. Prior to her faculty appointment, she was the project coordinator and co-principal investigator for Special Education's Early Childhood Research Institute on Culturally and Linguistically Appropriate Services.
Her research focuses on young children with disabilities and their families within the context of early intervention and early childhood special education services. Specifically, she is interested in developing an understanding of the ecologic influence of families and culture on parents and professionals in facilitating young children's development and learning.