Global Education Symposium
University of Illinois Global Education Symposium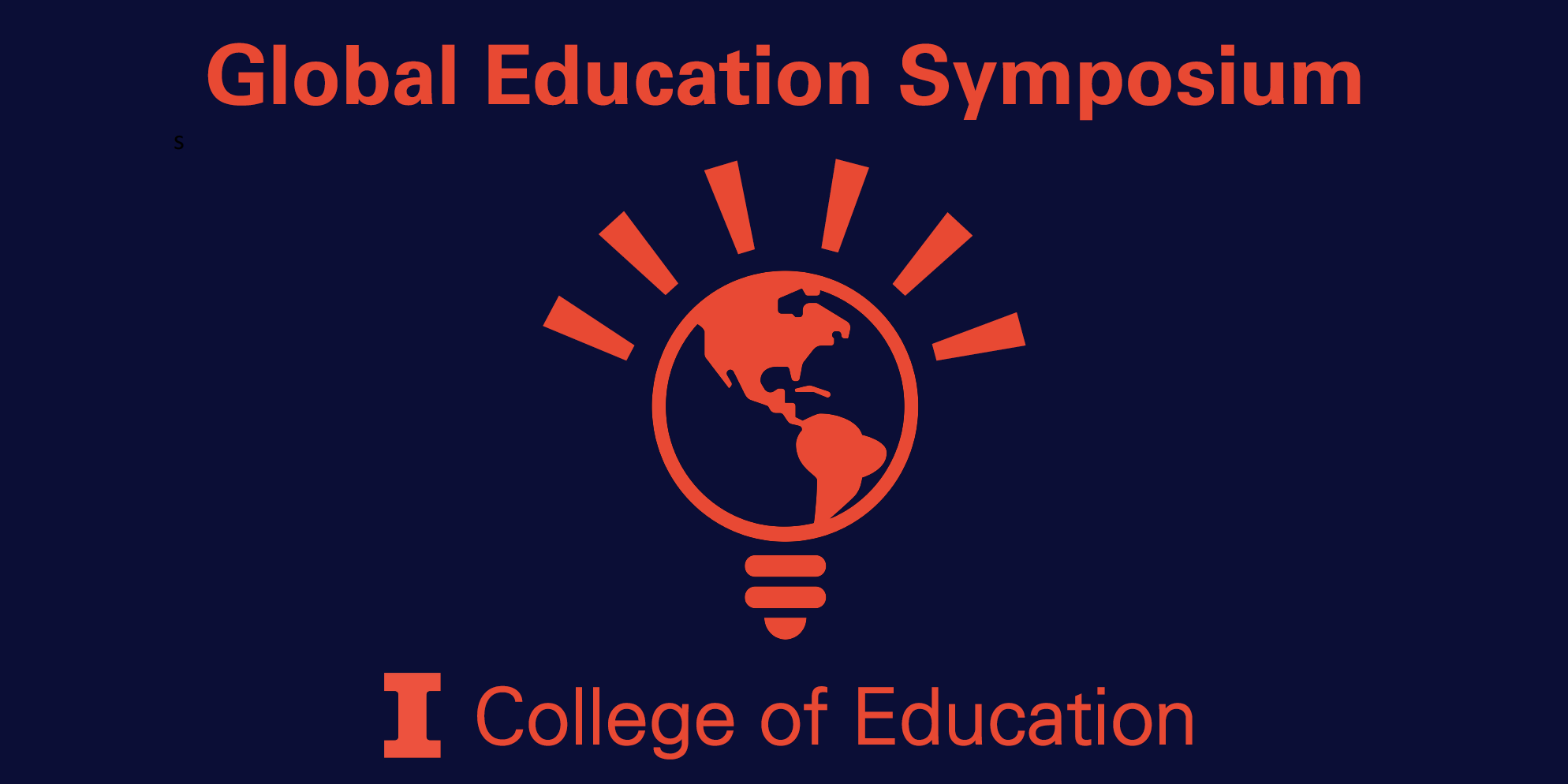 The Global Education Symposium at the College of Education is a four-day event with opportunities to engage with scholars from around the world, engage in professional development activities, participate in informal networking activities, and more! The Symposium includes a conference with panels and presentations by College of Education faculty, undergraduate and graduate students, alumni, international partners, and other scholars. Conference themes include global education and policy, global migration and education, diversity in local and global contexts, research-based practice in schools, and adult and professional education.
Symposium Schedule
Symposium Schedule
Please note: All times are in Central Daylight Time (UTC -5:00). Click here to convert to your local time zone.

Wednesday, October 14th
9am-5pm Faculty office hours

8:00-9:00am Global Studies in Education Faculty Talk:
"Cookstoves and Education for Sustainable Development in Rural Namibia: Implications for International Engineering Education" by Dr. Sam Lindgren

Low rates of adoption of energy innovations such as improved cookstoves have persisted in low- and middle-income countries. This talk examines the intersection of common design challenges to one of the most frequently promoted solutions in energy development, stakeholder communication efforts, and Education for Sustainable Development. A study that examines rural Namibians' energy use patterns at the community level and decision-making at the household level will be discussed. Findings indicate that energy attitudes and behaviors are bi-directional, and that youth exposure to Education for Sustainable Development can encourage changes within the home. This is a new area of energy research and has implications for the ways in which engineers are prepared to design for, and communicate with, countries and cultures that are not their own.
10:00-11:00am Global Studies in Education Alumni Panel
Hear from alumni Elise Ahn, Laura Engel, and Tarnjeet Kaur Kang as they discuss their current work/research and reflect on their journeys through graduate school and beyond.
12:00-1:00pm "Ask Me Anything...About My Research!"
6:00-7:00pm Welcome Reception
Join us for this hour to meet other Symposium participants. While we cannot socialize in person this year, this session is designed to allow for large and small group socializing. The session's activities will include fun ways to learn more about all of the great global experiences and attributes of Symposium participants. This opportunity will be facilitated by Global Studies in Education students. Please join us!
Thursday, October 15th
9am-5pm Faculty office hours
11:00am "Education 3.0 - The Onyx Method for training our learners" - Chris Kelly
2:30-3:30pm Exploring Broad Career Options in Education
This workshop uses hands-on activities to guide attendees through the process of thinking about what matters to them in a career and assessing possible career options.
3:45-5:00pm Library workshop on research and citation managers
This workshop will give you a solid foundation in how to most effectively use the University library's online resources to find journal articles relevant to your research interests and introduce you to advanced research strategies. The workshop will also provide an overview of citation managers such as Zotero and EndNote.
7:00-8:00pm Global Studies in Education Faculty Talk:
"Translingual Approach to Short-Term Study Abroad" by Dr. Hyun-Sook Kang
While study abroad (SA) has long been considered an opportunity for language learning, relatively little research has investigated how short-term SA programs hosted by Anglophone countries support varied aspects of sojourners' language learning. To address this gap, the current study examined how 10 college students from a Korean university developed translingual competence (Canagarajah, 2014) while participating in a 4-week program hosted by a Midwestern land-grant university. This study explored the ways in which individual sojourners developed their knowledge of semiotic resources and awareness of these resources in relation to communicative situations afforded by the SA program. Data, including bi-weekly written sojourner reflections, mid-program focus group interviews, individual interviews at the program's conclusion, questionnaires before and after the program, participant-observer notes, and other artifacts, were analyzed, using a cross-case study design (Stake, 1995). Sojourners demonstrated their understandings of (1) how resources relate to aspects of their identities and those of their interlocutors; (2) how resource use was shaped by their local placements and they could shape aspects of their environments to accommodate resources; and (3) how English linguistic resources could be encoded to facilitate communication during SA. The implications of these findings are further discussed for SA program development.
Friday, October 16

9am-5pm Faculty office hours
Conference (see conference schedule below)
Saturday, October 17

Conference (see conference schedule below)
Conference Schedule
Please note: All times are in Central Daylight Time (UTC -5:00). Click here to convert to your local time zone.

Friday, October 16
9am-5pm Faculty office hours
8:30-9:30am
Teachers' Emotional Experiences, Power, and Interpretation in the Context of Education Reform - Kwok Kuen Tsang, Assistant Professor and the Associate Dean of the College of Education Administration at Beijing Normal University

10:20-10:55am
Colombian ESL Epistemological Beliefs about Learning English: A Mixed Methods Study - Wilson Ramon Hernandez Parraci
11:00-11:35am
The International Baccalaureate (IB) and Globalization: Observations on the Saudi Arabian Experience - Eric Nethercott
11:45am-12:20pm
Expanding Higher Education in Angola: Case Study of ISP Dondi - Janine Solberg
Break

1:15-2:30pm Panel on Discourses, Schooling, and Global Neoliberalism
India's Rich History: How the Aryan Invasion Theory, Colonialism, Postcolonial Theory, and Colorism is Shaping India and the Global World - Aarthi Susarla
Counterbalancing Liberal Ideals to Shift the Theory and Practice of Democracy: Teaching Students About Privilege - Allan Michel Jales Coutinho
Norway's Teacher Education and Neoliberal Globalization - Essam Abdelrasul Bubaker Elkorghli
Saturday, October 17
9:15-9:50am
The Effects of Play-based Learning on Vocabulary Acquisition in Pre-Schoolers - Nurul Fatin Abdul Fareez
10:00-10:45am Panel on Islamic Education in/and Modern Schooling
Parental Choice of Education in Afghanistan - Abdul Waris Haji Sarwar Khan
A Practical Approach towards teaching Islamic Studies to Children using Inquiry Based Learning - Naeema Halim
11:00-11:35am
Using Virtual Reality to Connect and Engage Students in Remote Learning Environments - Joseph Fatheree and Thenkurussi Kesavadas
11:45am-12:20pm
Sentence Processing of English Denominal Verbs by ESL University Students in the US: A Mixed Methods Study - Tomoko Oyama
Break
1:00-1:45pm Panel on Higher Education Study Abroad

Becoming Intersectionality: Negotiating Intersectional and Transnational Identities by Taiwanese Graduate Students in the U.S. - Neal Liu
Study Abroad Disruption During A Global Pandemic -

Constance Hackler,

Brian Egan, Hyun-Sook Kang, and Allison Witt
Speaker Bios
Dr. Lindgren recently completed her PhD in Agricultural and Biological Engineering. Her research examines the role of Education for Sustainable Development and the agentive capacity of youth in the advancement of international engineering projects, particularly those that involve energy and agricultural innovations in rural areas of low- and middle-income countries. Her work is informed by climate justice, theories of behavior change, and utilizes mixed-methods with an emphasis on survey work. Lindgren is affiliated faculty in the Grainger College of Engineering's department of Agricultural and Biological Engineering and the Technology Entrepreneurship Center.
Hyun-Sook Kang is Associate Professor in the Global Studies in Education program in the Department of Education Policy, Organization & Leadership in the College of Education at the University of Illinois, Urbana-Champaign. She is also affiliated with the Second Language Acquisition and Teacher Education program on campus. Her research has been centered on learners' ideologies and practices in instructional and informal contexts, and her scholarly works have appeared in peer-reviewed journals, such as Journal of Multilingual and Multicultural Development, Modern Language Journal, and TESOL Quarterly. Her co-edited book, Online Education for Teachers of English as a Global Language (Routledge) just came out this summer, and she has been serving as a co-editor of Journal of Language, Identity, & Education.

Elise S. Ahn, Ph.D. is Director of the International Projects Office (IPO) in the International Division. Since joining the International Division and IPO in December 2016, Elise's main role has been to work with the IPO team to develop and administer internationally focused, multidisciplinary, capacity-building, and systems strengthening projects in collaboration with other UW units. Before coming to UW–Madison, Elise worked at KIMEP University (Kazakhstan) as an Assistant Professor and Director of a graduate teacher training program. She was a Fulbright-Schuman awardee to the European Union and the recipient of multiple U.S. Department of Education Title VI grants for Turkish language study. Her research and development foci explore the intersection of human geography and language and education policy and planning processes; internationalization in education policy production and reform processes with a focus on Turkey and Central Asia; and utilizing and implementing program evaluations in contextually and culturally relevant ways.
Laura Engel is Associate Professor of International Education and International Affairs, Director of the International Education Program, and co-chair of the GW UNESCO Chair in International Education for Development at George Washington University. Her interests focus on global education policy trends in federal systems, including education policy uses of international large-scale assessments, and internationalization of education. She is the author of over 60 articles, book chapters, and policy briefs. Her latest book is The Machinery of School Internationalization in Action (Routledge, 2020). Dr. Engel serves on the board of directors of the NEA Foundation and is joint editor of International Studies in Sociology of Education. Dr. Engel earned her PhD in education policy from the University of Illinois at Urbana-Champaign.
Tarnjeet Kaur Kang is a Research Consultant based in Juba, South Sudan, where she supports the data collection needs of NGOs and UN agencies across different sectors. She has conducted research in South Sudan since 2014, with a focus on community-oriented and inter-sectoral approaches, and has utilized methodologies including quantitative, qualitative, mixed methods as well as policy analysis in her research. She has consulted for organizations such as CARE International, IOM, Oxfam, the World Bank and CSRF. She completed her dissertation at UIUC on community self-determination in South Sudan's education system, which sought to document how citizens have met their own needs. Since then, her work and publications have focused on a variety of areas, including gender-based violence, forced migration, diaspora studies, disaster risk management, UN peacekeeping, refugee education, the informal economy and education. Dr. Kang currently provides pro-bono support to national NGOs in South Sudan, and also leads the Scholars Researching South Sudan networking group.
Past Proceedings
Past Proceedings
Testimonials
Testimonials from 2019

The Global Education Symposium was an excellent way to meet scholars - PhD students, recent graduates and professors - from the university. It opened my eyes to areas that my fellow students were researching, paved the way for great conversations and allowed me to meet my classmates in-person for the first time (I'm an online student).
-Nada A.

Attending the Global Education Symposium was the highlight of my online graduate school experience. Having the opportunity to visit the campus to present my research made me feel a stronger sense of purpose in my masters program and more connected to the University of Illinois. It was my first time ever presenting my research, and I couldn't ask for a more supportive environment! This experience helped empower me more in my work than I could have anticipated. It was also so special to meet several of my professors and connect with talented colleagues from around the world. The entire program was well-organized, with many thoughtful touches from the staff. I highly encourage fellow online students to attend the Global Education Symposium!
-Jackie B.

Attending the 2019 Global Education Symposium helped to broaden my perspective on the scope of research supported by the College of Education at the University of Illinois Urbana-Champaign. As an online student in the Ed.D. program, I believe it is invaluable to bring both students and faculty together in one location to create connections and support. I was honored to be selected to present my original research and to publish the findings in the conference proceedings journal. I am grateful for the support of Dr. Witt and the esteemed faculty I have had the opportunity to work with. I would encourage all students enrolled in the online programs to attend the Global Education Symposium.
-Carol D.