Global Education Symposium
University of Illinois Global Education Symposium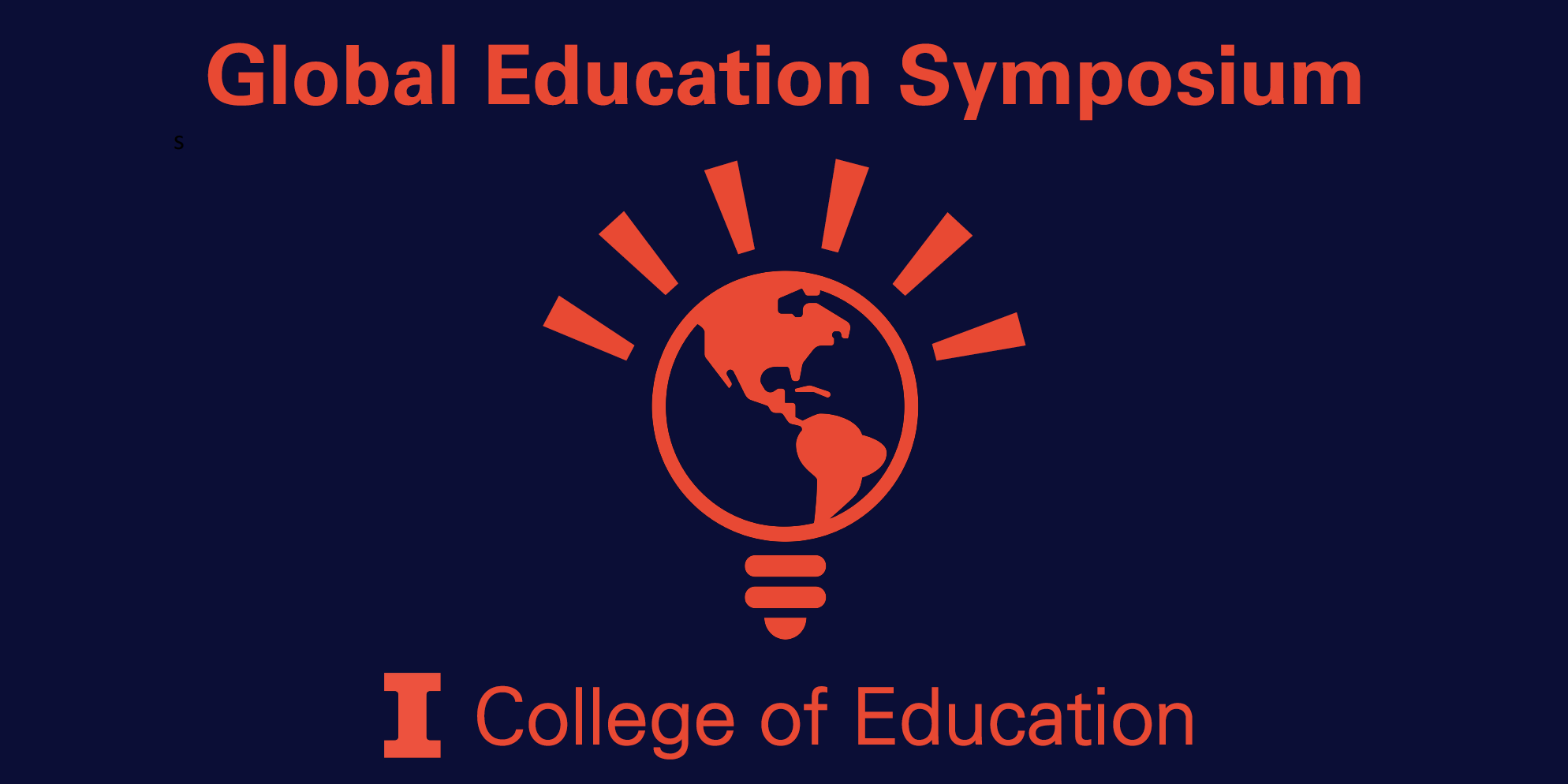 The Global Education Symposium at the College of Education is a four-day event with opportunities to hear students and faculty present, attend a keynote by Dean Anderson, engage in professional development activities, participate in Homecoming Weekend, and more! The Symposium includes a day-long conference on October 18 with poster sessions, panels, and presentations by College of Education faculty, graduate students, alumni, and international partners. Conference themes include global education and policy, global migration and education, diversity in local and global contexts, research-based practice in schools, and adult and professional education.
Information
Schedule
Tentative Schedule
Wednesday, October 16
2:00pm Campus tour*
4:00pm Faculty talk
Dr. Allison Witt: "Missed Opportunities: A Land-Grant University Between the Local and Global" (co-sponsored by the Higher Education Collaborative)

7:00pm Welcome reception
Thursday, October 17
9:00am-1:00pm Visits to local schools*
2:00-3:00pm Speed networking
4:00pm Choose one:
7:00pm Dinner and keynote by College of Education Dean James D. Anderson*

Friday, October 18
8:30am-5:00pm Conference
Poster sessions, panels, and presentations by College of Education faculty, online graduate students, alumni, and international partners.
5:00-6:00pm Pizza party
6:00pm Homecoming Parade

Saturday, October 19
8:30-10:30am Professional development*
Library research workshop
Part 1 of this workshop will give you a solid foundation in how to most effectively use the University library's online resources to find journal articles relevant to your research interests and introduce you to advanced research strategies. Part 2 of this workshop: Are you having trouble organizing all of your sources but don't know where to start? This hands-on workshop will introduce you to three popular citation managers—Mendeley, Zotero, and EndNote. We will go over pros and cons of each one and give you a preview of how they work to help you choose the best fit for your citation needs. Although it is not required, you may find it useful to download and test out the citation managers before attending (note: although EndNote is not free, students can download a 30-day free trial).

Career counseling
This workshop uses hands-on activities to guide attendees through the process of thinking about what matters to them in a career and assessing possible career options in the field of education.
Partnership building
Attend this session to learn about partnerships the College of Education has with universities and institutions around the world. Discover the collaborations the international partnerships have enabled and learn about upcoming opportunities available for you.

10:30am Coffee break
11:00am Football game

5:00pm Closing reception

Join the Marching Illini for a traditional tailgate party in front of the College of Education.
*Due to limited capacity, activities marked with an asterisk (*) are no longer available for registration. All other activities are open to the public and do not require registration.

Confirmed Speakers
Keynote Speaker:
Dr. James D. Anderson, Dean of College of Education

Confirmed Symposium Speakers:

Dr. Liv Davila (University of Illinois): "Reconceptualizing citizenship and civic engagement from the perspectives of newcomer immigrant and refugee youth"
Dr. Tetsuo Harada (Waseda University): "Speaking and pronunciation skills of children in a Japanese dual language program in the US"
Dual language programs, in which content subjects are taught in two languages, are offered in 448 schools in 37 states, including the District of Columbia (Center for Applied Linguistics, 2011). A great number of studies have been done on linguistic and academic outcomes of children in Spanish and French dual language programs, but very few studies look at non-European language immersion programs. This study focuses on two-way immersion (TWI) programs, which are unique in that a balanced number of students from each target language group are enrolled in a class, and they are expected to get more exposed to a second language from peers as well than in one-way immersion programs. The study examined how elementary school children in a Japanese/English TWI program developed their speaking skills measured by the ACTFL Assessment of Performance toward Proficiency in Languages (AAPPL) and pronunciation accuracy obtained by acoustic analysis. Seventy-one students (27 Japanese-as-a-foreign-language (JFL) learners and 44 Japanese-as-a-heritage-language (JHL) learners) from the 3rd, 4th, and 5th grades in the program participated in both an oral interview and a sentence reading task for eliciting voiceless stops /p, t, k/ in English and Japanese. Results showed that while most of the JHL learners reached I-3, I-4, or I-5 on the AAPPL scale, equivalent to B1 on the Common European Framework of Reference for Languages (CEFR), many of the JFL learners scored I-2, that is, B1.1 (Low). Further, acoustic analysis of voiceless stop consonants revealed that both groups of students produced the stops in the same way, which means that the JFL learners reached the norm of their Japanese speaking peers. This study may support a series of findings that TWI meets the language needs of both language majority and language minority students (e.g., Genesee et al., 2006: Lindholm-Leary & Block, 2010).
Liru Hu (The University of Hong Kong): "Multimedia effect in problem solving: A meta-analysis"
Pictures are commonly used to represent problems, but the effect of adding pictures in a problem-solving context remains unclear. The multimedia effect in problem solving describes the phenomenon where an individual's problem-solving performance is enhanced when equivalent pictures are added to illustrate or replace part of the problem text. Using meta-analytic techniques, this study seeks to determine the overall size of the multimedia effect in problem solving and its boundary conditions (k = 40, N = 38,570). The results demonstrated a significant small to medium sized multimedia effect on response accuracy (Hedge's g = 0.25) and a significant medium sized multimedia effect on students' response certainty (Hedge's g = 0.48) but no significant multimedia effect on response time. Function types of pictures significantly moderated the multimedia effect on response accuracy. Yet, only organizational pictures had a significant positive impact on response accuracy (Hedges' g = 0.46); while representational, informational or decorative pictures did not produce any significant effects on an individual's response accuracy. Problem difficulty was another significant moderator. The addition of pictures was more likely to significantly improve students' response accuracy on difficult problems (Hedges' g = 0.17), whereas the significant effect all but disappeared for easy problems. These findings suggest that the multimedia effect in problem solving is diversified and limited by multiple boundary conditions. More primary studies are needed to address this important issue.
Dr. Cameron McCarthy (University of Illinois): "The genesis of an academic career: Ruminating on the transnational impact of James Baldwin, African American letters, and the gilding of the postcolonial mind"

"I moved to Europe in 1948 because I was trying to become a writer and couldn't find in my surroundings, in my own country, a certain stamina, a certain corroboration that I needed." (James Baldwin quoted in Baldwin & Giovanni, A Dialogue)
In this presentation I will challenge the way in which programs of critical thought such as globalization theory, postcolonialism and mainstream multiculturalism suppress the vital phenomenon of cross-diaspora dialogue within black aesthetics. I will argue that there is, here, an unfortunate application of a rigid geography of place that consigns postcolonial discourses to the third world and multiculturalism to industrial societies like the United States as educators struggle to come terms with brutal historical pasts and elevated racial antagonism in the present. Against this backdrop of methodological nationalism and isolationism, I argue that there is a profound dialogue taking place across the periphery and the metropole within postcolonial/black aesthetics—a radical dialogue that precipitates an imperative towards rethinking contemporary notions of center-periphery relations. I will read this radical insight into my own autobiographical transactions with a classical colonial education and the extraordinary role of black letters, the writing of Baldwin, pre-eminently, in my own awakening from methodological slumber and the gilded training that education in an elite school in the Global South made available to me. Through this I will return my imagined interlocutors to a transitional era of US presence abroad, the "Development Decades," that coincides with my years of high school—an era that saw the propulsion of large-scale imperialist discursive formations and gestalts: the "American Dream," "Modernization Theory," "Industrialization by Invitation" and the "Alliance for Progress." It is this dreamscape of powerful discourses that emergent letters of African American writers such as Baldwin cut into. I want to bring this moment forward into our contemporary times and the struggle for intellectual autonomy and pedagogical freedom in the academy and schooling.
Dr. Fauzia Rahman (University of Illinois): "Reading 'I am Malala' in Peshawar: Why the local matters in the global fight for girls' education"
Haley Wing Chi Tsang (The University of Hong Kong): "Investigating collaborative problem-solving (CPS) skills of students through serious games: An exploratory study"
Video games for entertainment have existed for several decades and are getting more pervasive, especially among children and the younger generation. In recent times, video games for learning are also rising in popularity in education. This new category, known as serious games, with an engaging storyline, a variety of game mechanics, exceptional graphics and massively multi-player online game capability, offers interactive, interesting, responsive and authentic virtual environment for students to learn and play together. The same situation also applies to assessment of various academic areas, including collaborative problem solving (CPS) skills. The rising importance of CPS skill assessment comes about as a result of CPS skills being considered by many educators, researchers, and policy makers as the important 21st century skill to acquire by students for study and future work. At present, there is a pressing need to be able to assess CPS skills of students to help them learn and teachers teach various CPS skills effectively. However, the research in using serious games for CPS skill assessment is at the early stage only. With consideration of the above, adopting Design-based Research as the methodology for the development cycle, the proposed research efforts will first develop a conceptual serious game framework for designing games for CPS skill assessment. What follows is the creation of such a game to provide a virtual world in which students solve problems as a group, thereby exhibiting their competences in CPS to be assessed by the game. The in-game assessment is achieved by logging the activities and actions of students when they interact with other students and the different game elements, thus providing basic assessment data for identification and measurement of CPS behaviours and skills indicators for in-depth analysis. This exploratory study will potentially contribute to the start-up adoption of serious games for CPS assessment.
Cost
Registration Cost: $150*
Football ticket costs are not included.

*Registration fee is waived for all University of Illinois students, faculty, and staff.
Location
Travel and Accommodation
Travel
Option 1: Fly to Champaign
Option 2: Fly to Chicago and take a bus to Champaign
Chicago O'Hare International Airport
Bus option:

Accommodation
Note that due to homecoming weekend, many hotels will fill quickly. Be sure to make your hotel booking as soon as possible.
Some nearby hotels:
Eastland Suites
Holiday Inn Express
Home2 Suites
La Quinta Inn
Ramada by Wyndham
Assistance
If you would like assistance in booking plane tickets and/or accommodation, one option for a local travel agent is
LL Travel Agency
travel@lltravelagency.com
+1-217-344-6001
Financial Assistance
Online graduate students of the College may consider applying for a travel award.

Near the beginning of Fall 2019, applications for the Hardie Conference Travel Award for Fall 2019 will open. More information is available here.
Dress
Dress code: business casual
Average temperatures in October are between 45 and 65 degrees Fahrenheit (7 and 18 degrees Celsius).
Registration
Registration is closed. All activities on the schedule that are not marked with an asterisk (*) are open to the public and do not require registration. Click here to receive updates, including Friday's conference program when it becomes available.

Sponsors
The Global Education Symposium is sponsored by:
Keep me updated ›