Global Education Symposium
University of Illinois Global Education Symposium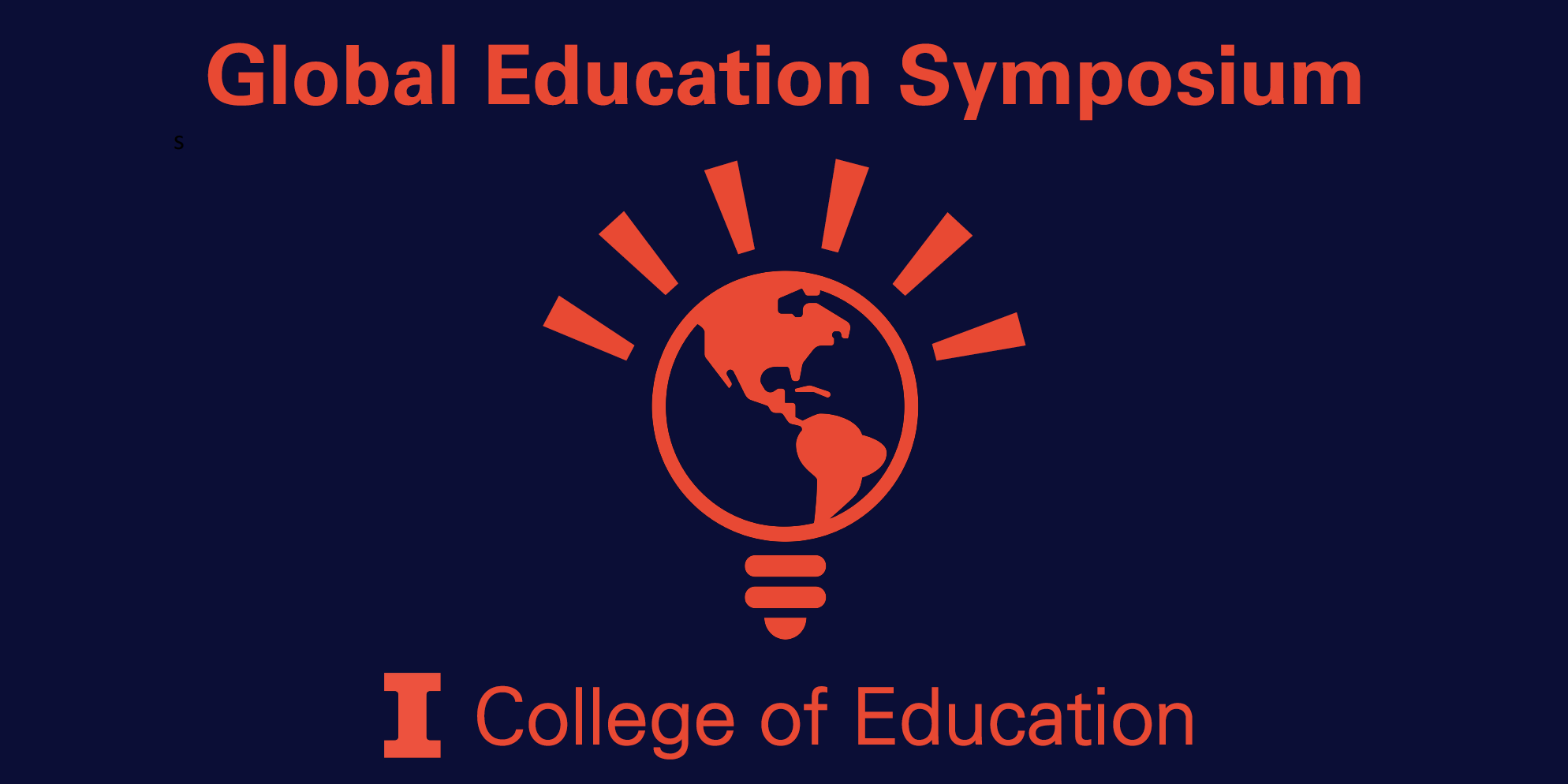 The Global Education Symposium at the College of Education is a four-day event with opportunities to hear students and faculty present, engage in professional development activities, participate in Homecoming Weekend, and more! The Symposium includes a conference with poster sessions, panels, and presentations by College of Education faculty, graduate students, alumni, and international partners. Conference themes include global education and policy, global migration and education, diversity in local and global contexts, research-based practice in schools, and adult and professional education.
Information
Past Proceedings
Past Proceedings
Schedule
Tentative Schedule
Make sure to check the campus homecoming webpage for campus-wide events!
Wednesday, October 14th
9am-5pm Faculty office hours (more information to follow)
12-1pm Lunch & registration
1-2pm Campus tour
Thursday, October 15th
9am-5pm Faculty office hours (more information to follow)
8am Breakfast
9am-12pm Visits to local schools
12:30-1:15pm Lunch & registration
1:15-2pm Talk by professor

2-2:45pm Talk by professor
3:15-4:15pm Library workshop on research and citation managers
4:15-5:00pm Career counseling workshop
6:30pm Dinner and keynote speaker with reception to follow
Friday, October 16
9am-5pm Faculty office hours (more information to follow)
8am Breakfast
9am-4:45pm Conference
12:30-1:30pm Lunch and Study Abroad Panel
5-5:40pm Pizza party in the North Lobby
5:40pm Homecoming parade
Saturday, October 17
8am Breakfast
8:30-10:30am Conference
11am Visit to local apple orchard
TBA*: Lunch and closing ceremony

*The timing will be determined by the time of the homecoming football game.

Location & Emergency Info
Travel and Accommodation
Travel
Option 1: Fly to Champaign
Option 2: Fly to Chicago and take a bus to Champaign
Chicago O'Hare International Airport
Bus option:

Accommodation
Note that due to homecoming weekend, many hotels will fill quickly. Be sure to make your hotel booking as soon as possible.
Some nearby hotels:
Eastland Suites
Holiday Inn Express
Home2 Suites
La Quinta Inn
Ramada by Wyndham
Assistance
If you would like assistance in booking plane tickets and/or accommodation, one option for a local travel agent is
LL Travel Agency
travel@lltravelagency.com
+1-217-344-6001
Financial Assistance
Online graduate students of the College may consider applying for a travel award.

More information is available here.
Dress
Dress code
Conference and talks: business casual
Activities: casual
Average temperatures in October are usually between 45 and 65 degrees Fahrenheit (7 and 18 degrees Celsius). Click here for up-to-date weather.

Registration
Click here to register to attend the Global Education Symposium.

Keep me updated ›