Global Education Symposium
University of Illinois Global Education Symposium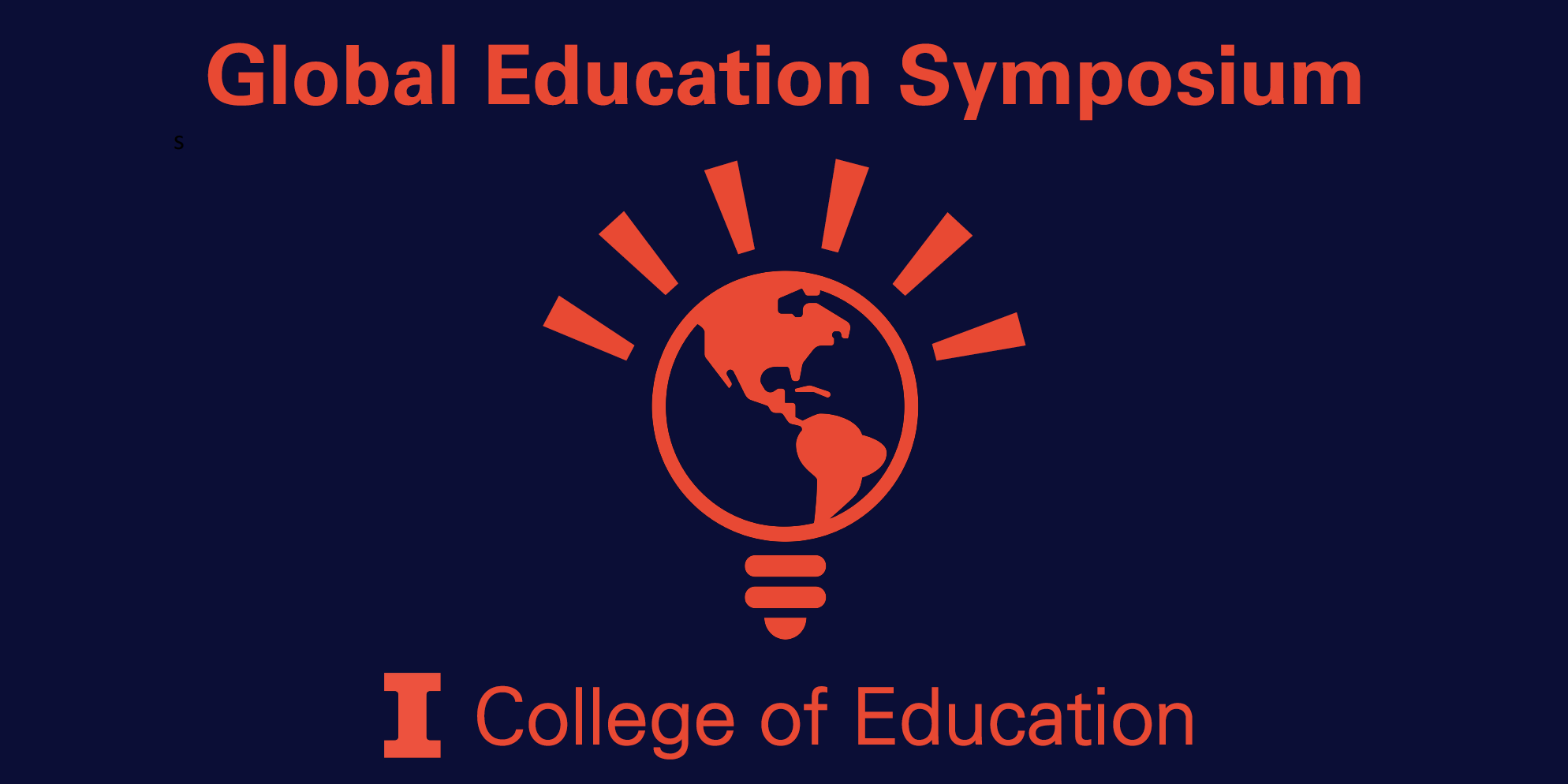 The Global Education Symposium at the College of Education is a four-day event with opportunities to learn from and connect with scholars from around the world researching global education, engage in professional development activities, participate in Homecoming Weekend, and more! The Symposium includes a conference with poster sessions, panels, and presentations by College of Education faculty, undergraduate and graduate students, alumni, international partners, and other scholars. Conference themes include global education and policy, global migration and education, diversity in local and global contexts, research-based practice in schools, and adult and professional education.
Update on 7/29/2020: The COVID-19 pandemic has caused disruptions and difficulties to many. We believe it is of utmost importance now more than ever to plan for a Symposium that we hope will bring us together across countries, cultures, and disciplines and offer a meaningful way to connect with one another. This year, the Symposium will be held online; we look forward to welcoming you virtually in October.
Click here to register ›
Registration deadline: July 31, 2020
Conference: Call for Abstracts
Global Education Symposium 2020 Conference
Call for Abstracts
We invite scholarship that studies education - including in the workplace, online spaces, informal learning contexts, and more - with a lens that situates these educational settings within broader economic, political, social, and cultural contexts. Because of the interconnectedness of our world, studying local contexts with a global lens provides a fuller understanding of both local and global phenomena. It is our hope that research studies with a variety of topics and employing a variety of methodologies - including interpretive, qualitative, and quantitative - will enhance our understanding of key educational issues around the world.
Undergraduate and graduate students, researchers, and other scholars working on issues related to global education are encouraged to apply.
The conference will take place at the College of Education at the University of Illinois Urbana-Champaign in Champaign, Illinois, USA as part of the Global Education Symposium. Arrangements for online presentations will be made if the need arises.
Abstracts should be 500-600 words in length. Each applicant will be asked to peer review up to two abstracts. Completing the peer review is a requirement for an applicant's submission to be considered for acceptance.
Click here to submit your abstract. Please note you will need to create an EasyChair account in order to complete your submission.
Past Proceedings
Past Proceedings
Testimonials
Testimonials from 2019

The Global Education Symposium was an excellent way to meet scholars - PhD students, recent graduates and professors - from the university. It opened my eyes to areas that my fellow students were researching, paved the way for great conversations and allowed me to meet my classmates in-person for the first time (I'm an online student).
-Nada A.

Attending the Global Education Symposium was the highlight of my online graduate school experience. Having the opportunity to visit the campus to present my research made me feel a stronger sense of purpose in my masters program and more connected to the University of Illinois. It was my first time ever presenting my research, and I couldn't ask for a more supportive environment! This experience helped empower me more in my work than I could have anticipated. It was also so special to meet several of my professors and connect with talented colleagues from around the world. The entire program was well-organized, with many thoughtful touches from the staff. I highly encourage fellow online students to attend the Global Education Symposium!
-Jackie B.

Attending the 2019 Global Education Symposium helped to broaden my perspective on the scope of research supported by the College of Education at the University of Illinois Urbana-Champaign. As an online student in the Ed.D. program, I believe it is invaluable to bring both students and faculty together in one location to create connections and support. I was honored to be selected to present my original research and to publish the findings in the conference proceedings journal. I am grateful for the support of Dr. Witt and the esteemed faculty I have had the opportunity to work with. I would encourage all students enrolled in the online programs to attend the Global Education Symposium.
-Carol D.
Schedule
Tentative Schedule

Wednesday, October 14th
9am-5pm Faculty office hours (more information to follow)

2:30-3:30pm Faculty talk
Thursday, October 15th
9am-5pm Faculty office hours (more information to follow)

1:30-2:15pm Faculty talk

2:30-3:30pm Career counseling workshop

3:45-5:00pm Library workshop on research and citation managers

Friday, October 16
9am-5pm Faculty office hours (more information to follow)

9:00am-5:00pm Conference
Saturday, October 17

9:00am-5:00pm Conference

5:00-5:30pm Closing ceremony

Dress
Dress code
Conference and talks: business casual
Activities: casual
Average temperatures in October are usually between 45 and 65 degrees Fahrenheit (7 and 18 degrees Celsius). Click here for up-to-date weather.