Math Alliance Research Study
The National Alliance for Doctoral Studies in Mathematics Sciences
The National Alliance for Doctoral Studies in Mathematical Sciences was founded in 2001 as a partnership between the math sciences departments at the three Iowa State Regents universities and at four Historically Black Colleges and Universities (HBCUs). The Alliance, which now includes over twenty math and statistics departments across the country, aims to make the mathematical disciplines more accessible and inclusive to traditionally underrepresented students by changing the culture of math. As of the fall of 2012 over 450 undergraduate students have participated in and benefited from Alliance membership. For a full description of the activities Alliance members have the opportunity to participate in, and to learn more about the people involved in this important initiative, please visit their website.
Why Research the Alliance?
The National Alliance in its present form is still in its infancy and experimental in its structures. The Alliance's focus on fostering a sense of community through mentoring, while also attempting to address cultural issues in the mathematical sciences, appears to be a unique approach toward broadening participation within the Science, Technology, Engineering, and Mathematics (STEM) disciplines. Because of these unique elements and structures, the University of Illinois, under the guidance of Dr. Casey George Jackson, received funding from the National Science Foundation (NSF) to conduct research on the Alliance. This grant is part of a larger NSF grant that the National Alliance received in Fall 2012.
Research Questions and Methods
The project aims to address the following research questions:
How does the unique underlying logic model help inform the key components of the Alliance? Why and how is the Alliance successful? How does the Alliance impact students' experiences in math departments?
Can the Alliance model be expanded to serve more students, and be adopted by other STEM disciplines to support students in different science-and math-based disciplines?
We are employing a mixed-methods approach that will examine both the short-term and long-term outcomes of the program in relation to these questions. The majority of data to be used in the study will be collected in 2013 from faculty members, undergraduate, and graduate students via online surveys, interviews, and focus groups. Publically available data on the departments and universities that form the National Alliance will also be analyzed. The findings of the study will be disseminated to members of the Alliance, to the National Science Foundation, and to others interested in increasing underrepresented students' participation and success in mathematics. For more information about the data collection process, data analysis, or the role of our research team, please contact us using the information at the bottom of this page!
The Research Team
Casey George-Jackson, Ph.D. (Principal Investigator) is currently an Institute of Education Sciences Postdoctoral Research Fellow in Mathematics Education. She recently served as project director for a National Science Foundation, multi-site, $1.7 million research project that studied issues of underrepresentation in the STEM fields. She has experience collecting and analyzing both quantitative and qualitative data, including institutional, survey, and interview data. Dr. George-Jackson completed her doctorate in Educational Policy Studies at the University of Illinois at Urbana-Champaign in 2009, using quantitative and evaluative methods to explore issues of access to and retention in the STEM fields. Her research interests include the design, implementation, and structure of STEM intervention programs, as well as transitions in STEM education for underrepresented groups, with a K-20/Workforce perspective.
Randi Congleton, MS (Research Assistant) is a PhD student in Higher Education. Her research interest include factors that influence graduate student persistence. Additional interest include issues of transition, access and equity, mentoring relationships and the experiences of Graduate Diversity Officers. Prior to graduate studies, Ms. Congleton served as Director of Multicultural Programs in the College of Agricultural Sciences at The Pennsylvania State University. She received her B.S. in Agricultural and Extension Education from The Pennsylvania State University and a M.S. in Community Services from Michigan State University.
Natasha Murray, MAT (Research Assistant) is a doctoral student in Curriculum and Instruction at The University of Illinois at Urbana-Champaign. Prior to her doctoral studies, she served as a teacher in both Baltimore City and Washington DC Public Schools. Her research interests include examining dialogic spaces for pre-service teachers to openly explore their racial and ethnic identities, and how they in turn, shape their perspectives and ideologies of race and racism. Using an Intergroup Dialogue model, dialogue becomes a method to help disrupt the impacts of oppression and privilege.

Lisa Skultety (Research Assistant) is a graduate student in Curriculum and Instruction at the University of Illinois at Urbana-Champaign. She taught middle and high school mathematics in Houston, Texas, before deciding to pursue an advanced degree. Her research interests include how to individually support students to find success in mathematics and factors that influence students' decisions to pursue STEM careers.

Martha Makowski, MS (Research Assistant) is a graduate student in Curriculum and Instruction at the University of Illinois at Urbana-Champaign. She earned her Masters in Mathematics in 2007 and then taught mathematics at a community college for five years. She is interested in adult learners of mathematics, preparing mathematics teachers, and equity in STEM.
Blanca Rincon (Research Assistant) is a doctoral student in the Department of Education Policy, Organization and Leadership at the University of Illinois at Urbana-Champaign. Her research interests include issues of access and retention for underrepresented students in higher education, specifically within STEM fields.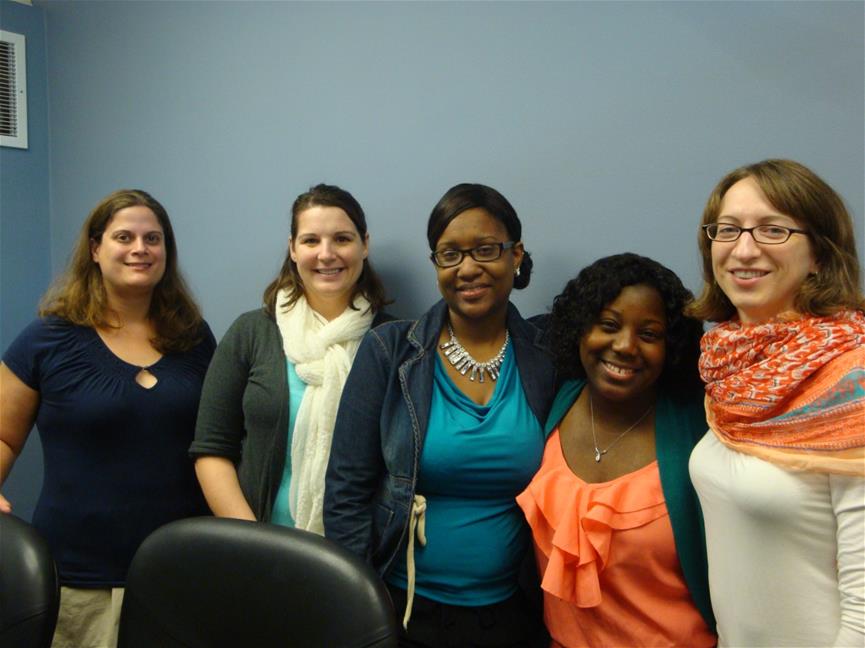 From left to right: Martha Makowski, Lisa Skultety, Randi Congleton, Natasha Murray & Casey George-Jackson. Not pictured: Blanca Rincon
---

Contact Us
stem@education.illinois.edu
217-333-4673
National Alliance Study
c/o Dr. Casey George-Jackson
College of Education
University of Illinois at Urbana-Champaign
1310 S. Sixth Street, MC 708
Champaign, IL 61820