Recognizing Education at Illinois leaders in 2016-2017
Recognizing Education at Illinois leaders in 2016-2017
by the College of Education at Illinois / May 3, 2017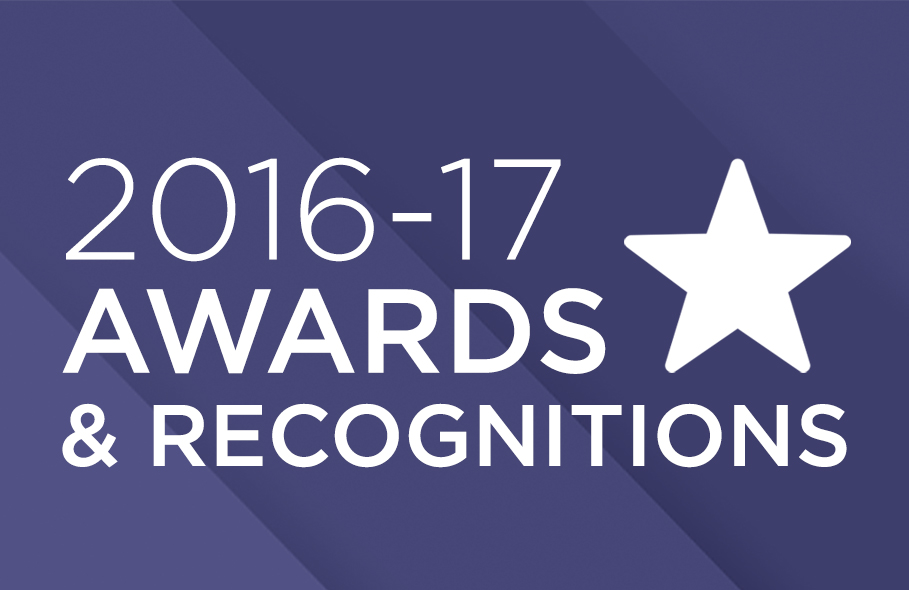 The College of Education at Illinois is pleased to announce the faculty, staff, and students who are recipients of the 2016-2017 Faculty and Staff Awards. Honorees will be recognized May 4 at the College's Spring Faculty Meeting in Room 2 of the Education building.
In addition to these awards, several other faculty, staff, and students of the College received national recognition and honors from the campus during the academic year. Congratulations to all!
College of Education Faculty and Staff Awards
Academic Professional Excellence Award: Natasha Jankowski, Department of Education Policy, Organization and Leadership
Natasha has been the director for the National Institute for Learning Outcomes (NILOA) since its inception. NILOA is an externally funded research and development entity that serves as a resource to postsecondary educational institutions in the U.S. The unit focuses on best practices for advancing student learning outcome assessment work and related institutional improvement efforts. Natasha has helped attract more than $8.5 million in funding through philanthropic organizations and foundations. She has a worldwide reputation for her expertise related to student learning outcomes assessment, stewardship of NILOA, contributions to literature in the field, and has invited lecturers to speak from all over the world. Her nominator described Natasha as a "gifted teacher" and a "conceptual thinker who understands the importance of scholarship as a companion to effective leadership."
Distinguished Staff Award: Stephanie Pickett, Office of Human Resources
Stephanie is described as an "integral member of the human resources unit" who demonstrates excellence in her overall work performance on a daily basis. Nominators noted she is the "ultimate team player" who "never hesitates to volunteer for more duties." Stephanie was also described as a forward thinker who always looks for ways to improve the efficiencies of human resources. As duties and responsibilities change or are adjusted within her department, she engages in problem-solving with the team and enthusiastically works toward solutions.
Outstanding Graduate Teaching Award: Sarah Lubienski, Department of Curriculum & Instruction
Since joining the Department of Curriculum & Instruction in 2004, Sarah has taught various graduate courses, many of which were new to the College such as Problem Solving in Mathematics Teaching and Learning; Large-Scale Looks at Equity in Education; and Quantitative Research Literacy. As head of the Math, Science, Technology (MST) division, she has led the implementation of the MST doctoral seminar. Sarah's graduate courses are consistently ranked "high" and "high average," and former students describe her teaching as "truly inspirational." They laud her ability to pose questions that provoke deep thinking and analysis, her skillful use of students' backgrounds and experiences as resources for collective learning, and the extensive feedback she provides on their work. In addition, Sarah's leadership as associate dean (2012-2014) and interim dean (2014-2015) of the Graduate College has contributed significantly to graduate education. She has assisted with the implementation of the Assessment of the Illinois Doctoral Experience, and promoted the recruitment and retention of graduate students from underrepresented groups.
Distinguished Teaching Career Award: Sarah McCarthey, Department of Curriculum & Instruction
Sarah was selected for her considerable contributions to teaching and teacher education. Her nominators noted that "since joining the Department of Curriculum & Instruction in 1999, she has been an extraordinarily resourceful and dedicated teacher of literacy education, an award- winning mentor of graduate students, and, as the first director of Teacher Education, a college leader in program redesign and development." The letters of support from former and current students described her impact as an advocate for her students and her commitment to students' learning and future trajectories. One of her students noted, "I have taken multiple courses with Dr. McCarthey and am well positioned to speak to her excellence in teaching. A thoughtful practitioner, she models a deeply connected pedagogy that is responsive to her students' identities, interests, and needs."
Outstanding Faculty Award for Service: James Shriner, Department of Special Education
James was selected for this award based on his significant contributions at the local, state, and national levels. For more than 20 years he has dedicated his professional career toward improving policy and practice for individuals with disabilities and the professionals who work with them. His nominator noted that "Dr. Shriner epitomizes the meaning of 'service' in special education." Aside from his extensive work in the state, he has worked with the U.S. Department of Education, Office of Special Education Programs, IDEA Implementation Team for Alternate Assessment, Institute of Education Sciences, and the National Center for Education Statistics. James has done extensive work with state boards of education nationwide to improve accountability in assessment for students with disabilities and policy- and decision-making to assure compliance with federal laws for students with disabilities. His service to the disability field has ensured that countless students receive an appropriate education.
Outstanding Undergraduate Teaching Award: David Zola, Department of Educational Psychology
David's primary course is EPSY 201, which he has taught for 58 consecutive semesters. Since 1988 he has received a "high" average rating from students (over 75 percent) within the 150 courses he has taught. David's nominator described him as "indefatigable in his commitment to educating undergraduate students," noting that he "teaches multiple courses in both traditional and online formats and is successful in them all." David also makes important curricular contributions to his department and the College. He has worked with graduate students to redesign the EPSY 201 and EPSY 236 courses, aligning them with the new requirements of the revised undergraduate teacher certification programs. David also was central to developing the Learning and Education Studies major. His guiding principles of creating communities of learners, using active learning, and fostering a constructivist perspective shine through via the accolades from his department nominator and student recommendation. One former student and teaching assistant stated, "I got the wonderful opportunity to see firsthand Dr. Zola changing the lives of young future educators and inspiring them to become the most caring, patient, and understanding teachers they could be."
Outstanding Teaching Award for Teaching Assistants: Cassandra Colbert, Department of Educational Psychology
As a graduate student in the Department of Educational Psychology, Cassandra first made her mark teaching Educational Psychology 202. As a teaching assistant in that course, she led talks on diversity and social oppression, discussing topics such as gender/sexism, race/racism, sexual orientation/heterosexism, socioeconomic class/classism, and disability/ableism. She then went on to teach five other courses in the department, and her ratings from students were consistently in the "high" range. In providing an evaluation of Cassandra as an educator, Dr. Joycelyn Landrum-Brown said: "I could totally trust Cassandra to excel at making sure her students understood the key concepts and guiding them in applying these concepts to real-life issues and current events in ways they could receive the information. She was very good at meeting students where they were developmentally, and she was thoughtful in terms of their readiness to explore the sensitive social justice issues covered in the course."
Spitze/Mather Faculty Award for Excellence: Kristen Bub, Department of Educational Psychology
Kristen's work exemplifies the spirit of this award since she integrates her research and outreach in meaningful ways, with the goal of supporting families. Her nominator said she is a highly regarded scholar in the area of child and adolescent development whose work explores factors that contribute to resilient development. Kristen's research emphasizes the connection between health and socio-emotional well-being and academic potential. She is described as being at the forefront of a movement in child development and educational psychology that examines "readiness for school" in terms of the constellation of factors that contribute to children's ability to engage social, emotional, and cognitive challenges that enable deep learning. Her nominator, Dr. Elizabeth Stine-Morrow, said: "Her program of significant research on childhood resilience in context and her engagement with students and the profession around these issues make Professor Bub highly deserving of this award."
Professional Awards and Recognition for Faculty Members
Professor Emeritus Richard Anderson – Inside the Academy honoree named by Inside the Academy
Gutgsell Professor Emerita Debra Bragg – 2016 Howard Bowen Distinguished Career Award from the Association for the Study of Higher Education
Hua-Hua Chang – E.F. Lindquist Award from the American Educational Research Association and American College Testing
Jennifer Delaney – National Education Finance Academy Distinguished Fellow named by the National Education Finance Academy
Robb Lindgren – Jan Hawkins Award for Early Career Contributions for Humanistic Research and Scholarship in Learning Technologies, Division C – AERA Learning and Instruction
Sarah Lubienski – Outstanding Reviewer for 2016 from AERA and Educational Researcher
Micki Ostrosky – Division for Early Childhood Award for Mentoring from the Division for Early Childhood
Eboni Zamani-Gallaher – American College Personnel Association Diamond Honoree from the American College Personnel Association Diamond program; and Senior Scholar Award from the Council for the Study of Community Colleges
University of Illinois Recognition
Education Justice Project – Campus Award for Excellence in Public Engagement
Karla Moller – Teaching Excellence Award from Illinois Student Government and Campus Award for Excellence in Undergraduate Teaching
Professional Awards for Staff
Lila Moore – Those Who Excel Award from the Illinois State Board of Education
Victor Perez – Those Who Excel Award from the Illinois State Board of Education
Students in the College of Education
Samantha Blumenthal – Senior 100 Honorary member named by the Student Alumni Ambassadors
Anna L. Bolton – Bronze Tablet recipient
Samantha C. Cherry – Bronze Tablet recipient
Olivia Noel Elkins – Bronze Tablet recipient
Katherine Jo – National Endowment for the Humanities Summer Scholar named by the National Endowment for the Humanities
Alisha Johnson – National Academy of Education/Spencer Dissertation Fellow named by the National Academy of Education
Alexis Jones – Campus Award for Excellence in Undergraduate Teaching
Katrina Kennett – YWCA Leadership Award in Education from the YWCA of the University of Illinois
Sydney B. Lichten – Bronze Tablet recipient
Gabriel "Joey" Merrin – Outstanding Student Medal doctoral degree awardee from the College of Education at Illinois
Jamie Pearson – Research Live! finalist named by the Graduate College at Illinois
Christine Rinkenberger – Outstanding Student Medal graduate's degree awardee from the College of Education at Illinois
Riannon Szofer – Senior 100 Honorary member named by the Student Alumni Ambassadors; and Outstanding Student Medal bachelor's degree awardee from the College of Education at Illinois
Logan Walther – Senior 100 Honorary member named by the Student Alumni Ambassadors
Jenna Weglarz-Ward – Division for Early Childhood J. David Sexton Student Award from the Division for Early Childhood
Emily Jean Witek – Bronze Tablet recipient
Katherine Woodruff – Senior 100 Honorary member named by the Student Alumni Ambassadors

View the College of Education awards nomination page.