James Scholar Honors Program
James Scholars
About the College of Education James Scholar Program
The James Scholar Program is a University-wide program established to encourage undergraduate research, independent study and the opportunity to work with renowned faculty.
In the College of Education, the James Scholar Program provides a rewarding educational experience for students with exceptional academic skills. James Scholars in Education are civically engaged, global citizens and leaders able to use research based decision making skills. James Scholars are creative, collaborative and think critically as they prepare to enter the workforce.
As a James Scholar, we expect you to view the world from all different perspectives and become change-agents in society. It is our hope that the honors community in the College of Education will allow you to find and discover opportunities and take risks that broaden your thinking so you leave here ready to make a difference in the field of education. Diversity is a key element of the College of Education, and we expect you to become enlightened and compassionate about current educational issues related to social, environmental and economic justice.
To this end, Education James Scholars are encouraged to develop transferable skills and academic discipline centered around the following themes:
Research
Civic Engagement and Global Consciousness
Leadership
Professional Development
Overview of the James Scholar Program
Incoming Freshmen will be expected to select James Scholars options in accordance with the requirements of the designated four themes in order to be eligible for cords at graduation. Two research projects are required.
Incoming transfer students are not bound to the four themed requirements - but are encouraged to participate in any options offered. Students must successfully complete a James Scholars Project in the Fall and Spring semester in order to receive James Scholar recognition. For all requirements, please see Program Details
I. Course Related eHCLA (Repeatable Option)
James Scholars can use eHCLA's (electronic Honors Credit Learning Agreements) in conjunction with the instructor of one of their regular classes. The project is determined by the instructor of the course. Students may also elect to use eHCLA's to work with a professor on research projects outside the classroom. Please refer to Participating Faculty Researchers for details.
II. Designated James Scholar Courses
CI 205 (Spring only) and EDUC 102 (freshmen only) are designated James Scholar courses that count for James Scholar credit. You do not have to complete any additional projects or presentations in order to get James scholar credit if you select one of these options.
Special Opportunities for Fall 2019!
We are truly excited to offer our James Scholars extra James Scholar course options for fall 2019! These classes cover a variety of topics and count as automatic James Scholar credit.
I. ANTH 399 PJ1 Mentoring and Leadership LEADERSHIP option
This course offers James Scholars who have previously taken ANTH 143 the opportunity to develop their mentoring skills by working with peers as well as learning about leadership from faculty, TA's and leaders in the Anthropology field.
Contact Dr. Petra Jelinek for more information and to register!
II. EPSY 403 A Research Methods in Learning Sciences RESEARCH Option
This course is being taught by Dr. Jennifer Cromley, one of our faculty members who actively works with James Scholars in our College!
This course is an introduction to conducting research in the learning sciences, including hot to use theory as a guide to conducting literature research questions. The course introduces quantitative and qualitative research design, data collection and analysis, and other aspects of research relevant to learning, teaching and other topics relevant to education. A secondary goal is to better understand research reported in the primary literature as well as in the news media. Assignments will include evaluating research papers and writing a research proposal.
III. ACES Leadership Courses
This past spring, JamesScholars had the opportunity to take ACES 199 for James Scholar leadershipcredit. I am pleased to announce that this has been added as a permanent courseoption and the courses are listed under leadership at the bottom of the page.Consider registering for one of these 8 week courses if you are looking for aleadership option.
IV. Research opportunity
Students have the option to work with CI PhD student Mary Lyons. 

Student responsibilities include transcription of audio recorded during interviews

and teacher meetings as well as some organizational work. The project will be 

focused on strategies kindergarten teachers use while integrating play into their 

prescribed curricular resources with a lens on strengths and barriers that exist

in their classroom, school, district and community contexts.

Contact 

Mary Lyons

 for more information!
V. Ongoing Education RESEARCH opportunity - Work with faculty and graduate student!
The Napolitano research group is offering a unique opportunity to be involved in

 multiple stages of the research process, including a critical role in data collection!

You will have the opportunity to collect data from middle and high school 

students in an Educational Psychology research experiment!  This summer we 

are conducting a research study that is investigating how adolescents use 

multiple means to achieve their goals. Research indicates that goal pursuit is a 

critical skill, but success is not guaranteed. People develop backup plans to 

deal with the unpredictability of goal pursuit, but backup planning may impact 

goal pursuit. We are conducting one of the first studies to examine this process

 in adolescence. 

Students majoring in Education, Psychology, and HDFS are particularly encouraged 

to apply, but all majors are welcome to inquire. Experience with previous research

 studies and CITI training preferred, but not required! 

  

This is an ongoing research study. Data collection is taking place this July. Data 

entry, analysis and dissemination will take place in August and in the Fall. 

YOU can choose how involved you would like to be! 

  

Please email the Project Coordinator, Bethany F. Hoff, at 

bflemng2@illinois.edu, or visit our lab website at 

http://www.cmnapolitano.com/ if you are interested in this 

opportunity! 
VI. Research course option MACS265
Innovation Illinois introduces the histories of UIUC 

interdisciplinary innovations that brought together students and 

researchers in engineering, humanities, sciences and the arts. 

We will explore how local histories of Illinois innovations help us 

understand today's innovation trends and processes, from the 

growth of new design centers on university campuses to contemporary

 accessibility design, online education, and electronic music. As part 

of a final research project, students will be introduced to the basics 

of video editing and will team produce a short-form video using 

various primary sources.
Theme Projects
I. Research – (2 REQUIRED)
Research Information
EDUC 102 – Freshmen only

CI 205 (repeatable option)

HDFS 494- Research Methods (Developmental Assessment and Screenings with Young Children or STRONG Kids Program sections)

Examples of non-course related research includes, but is not limited to the following:
II. Civic Engagement and Global Consciousness – (1 Recommended)
Service Learning & Social Justice
Please consult the campus Class Schedule for availability and times.
ARTE 260- Museums in Action
FAA 199/499- Choreographing Leadership
IS 418- Community Engagement
SPAN 232- Spanish in the Community
SPAN 332- Spanish and Entrepreneurship
UP 478- Community Development Workshop
CHEM 199– Undergraduate Open Seminar (only specified sections such as Sci Ed and Research for Children, Kids and Chemistry Outreach program)
EPS 390- Education & Social Justice
LINC Courses
ENG 298- Special Topics (examples include but are not limited to Lego Robotics Mentoring or Learning in Community with Don Moyer's Boys and Girls Club).
ENG 398- Special Topics (examples include, but are not limited to Engineering for Social Justice Scholars Program).
Study Abroad
If participating in a spring/winter break or summer study abroad program (taken from Illinois), students can earn James Scholar credit by presenting their experience AT A SPRING SEMESTER EVENT. NOTE: James Scholar Credit must be the immediate semester but is based on the commitment to present at a spring venue.
Students who study abroad in the summer will earn fall James Scholar credit but it is based on their presentation in the spring and does not constitute their spring project since it counted for fall.
Students interested in earning James Scholar credit for study abroad will need to create a 4-5 minute video about their educational experience and present at one of the James Scholar spring events.
Contact the College of Education Admissions and Records Officer at recordsofficer@education.illinois.edu with questions and for video and presentation details.
PLEASE NOTE: Semester long study abroad trips automatically fulfill the James Scholar requirement for the semester the student is abroad. The semester long study abroad does not require a presentation.
III. Leadership – (1 Recommended)
I. Leadership Center I-Program.
Please note, students may use a total of two Leadership programs to count for James Scholar credit. If you have already attended two Leadership Center programs for James Scholar credit, please select another option.
To receive James Scholar credit, you will need to follow these steps in order:
1. Register for an I-program (ex. Intersect) through the Leadership Center website: It needs to be a program you have not previously attended.
2. Once you receive an email confirmation from the Leadership Center, please forward the email to recordsofficer@education.illinois.edu.
3. Submit the eHCLA by March 1st or October 1st to indicate which program you will (or did) attend. This option is only available if you have already forwarded the email registration confirmation in step 2.
4. Once you attend the program, please submit a copy of the certificate either by email or by stopping by our main office at 110 EDUC no later than the end of the semester in which the program was attended.
To receive James Scholar credit for attending an Illinois Leadership Center program, students are expected to be an active and positive participant.
II. Leadership Course options
For freshmen, sophomores, and juniors …
AGED 140: Harnessing Your Interpersonal Intelligence
2nd 8 weeks (10/21/2019 – 12/11/2019)
CRN 72104
2 credit hours
Online asynchronous course
Who Should Take This Class: Freshman, Sophomore, or Junior students in ANY college/major interested in developing their self-awareness, self-management, and interpersonal communication skills to be effective team members and leaders.
Course Description: Students will expand their capacity for communication, collaboration and team leadership to navigate the complexities of the university and beyond. In this course, students will learn communication strategies to work with others and practice self-awareness, self-management, and interpersonal communication skills in a supportive setting to reach their personal potential as emerging leaders.
For sophomores and juniors ….
AGED 170: Leading Student Organizations
1st 8 weeks (8/26/2019 – 10/18/2019)
CRN 72105
2 credit hours
Online asynchronous course
Who Should Take This Class: Sophomore or Junior students in ANY college/major interested in developing their organizational leadership skills to be effective leaders in student, university, or community organizations in which they are involved.
This course is open to freshman, but I would not recommend this fall section for first-time freshman who are likely not involved in leading organization on campus during the first 8 weeks of their first semester on campus.
Course Description:Students will develop their capacity for leadership in university and volunteer organizations. In this course, students will learn about organizational structures, elements of effective organizations, strategies for leading other people, and applications beyond formal student organizations.
For seniors…
AGED 440: Interpersonal Intelligence for Professional Success
1st 8 weeks (10/21/2019 – 12/11/2019)
CRN 72106 (Seniors)
CRN 72107 (Graduate Students)
2 credit hours
Weekly seminar meets in person on Mondays from 3:00 – 5:50 pm
Who Should Take This Class: Students with Senior Standing and Graduate Students in ANY college/major interested in developing their self-awareness, self-management, and interpersonal communication skills to be effective team members and leaders.
Course Description: Students will learn theoretical elements and practical strategies to solve problems, negotiate, and navigate complex situations as an effective leader. This course is designed for students interested in developing their capacity for collaboration and team leadership by addressing the unique challenges facing professionals in business and academic research teams. Whether landing a professional internship, preparing for graduate school, or professional employment, students will develop the essential interpersonal intelligence skills to influence others.
IV. Professional Development - (HIGHLY Recommended - Student Teaching Semester only)
A Study on Teacher Supervision/Evaluation
During the student teaching semester study the impact on the new district and state mandates for teacher supervision and evaluation. These mandates include: evidence-based observation, teacher artifact collection, and Student Learning Outcomes (SLO's). Collect samples of observation and evaluation instruments, SLO processes, artifact collection guidelines, etc. Consider their alignment to the Danielson Framework for Teaching or other teacher evaluation framework, interview teachers and administrators about district policies, practices, and reactions to new evaluation and supervision practices. Present your findings in a media-rich format, using images, video, and other resources and upload your work to a private YouTube channel.
Attend an Ongoing District Professional Development Opportunity
Work with your school to identify, select and participate in a sustained/extended district-wide professional development opportunity and write a paper, create a poster presentation, brochure or technology-supported resource guide with thoughtful reflection and assessment of the program.(Example: Book Clubs, Curriculum Committees, Program Implementation/Review, Data Teams, etc.)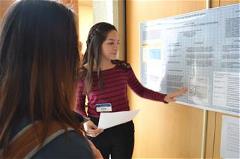 Create a Clinical Experiences Interactive Blog
While student teaching, create, maintain and post a blog to be used interactively with College of Education students. Blog should contain vignettes, weekly "diary-like" entries, and/or an account of specific classroom activities and teaching techniques, followed by thoughtful reflection, assessment, and suggestions for growth and improvement when applicable. This blog is intended to support the development of teacher candidates in early stages of the professional course sequence and to highlight successful practical applications of knowledge, skills, and dispositions developed through University coursework.

Service-Learning Project
Attend an orientation workshop on service-learning programming, co-facilitated by College faculty and staff with experience and interest in service-learning in the P-12 setting and then implement a full-scale service-learning project in the student teaching classroom. The project must adhere to recommended best practices in service-learning as an pedagogical tool in the classroom with periodic review of the various stages of project design, implementation, and evaluation.