James Scholar Honors Program Overview and Project Options
James Scholars
About the College of Education James Scholar Program
The James Scholar Program is a University-wide program established to encourage undergraduate research, independent study and the opportunity to work with renowned faculty.
In the College of Education, the James Scholar Program provides a rewarding educational experience for students with exceptional academic skills. James Scholars in Education are civically engaged, global citizens and leaders able to use research based decision making skills. James Scholars are creative, collaborative and think critically as they prepare to enter the workforce.
As a James Scholar, we expect you to view the world from all different perspectives and become change-agents in society. It is our hope that the honors community in the College of Education will allow you to find and discover opportunities and take risks that broaden your thinking so you leave here ready to make a difference in the field of education. Diversity is a key element of the College of Education, and we expect you to become enlightened and compassionate about current educational issues related to social, environmental and economic justice.
To this end, Education James Scholars are encouraged to develop transferable skills and academic discipline around the following themes:
Research
Civic Engagement and Global Consciousness
Leadership
Professional Development
Overview of the James Scholar Program
Eligible students receive an invitation to participate in the program on the 10th day of classes in the fall semester. Current UIUC and transfer students must have an Overall and/or UIUC GPA of 3.5 or above in order to receive an invitation to participate in the program. Incoming Freshmen are identified at the campus level.
Incoming Freshmen and ICT students will be expected to select James Scholars options in accordance with the requirements of the designated four themes. In order to be eligible for cords at graduation, two research projects and three academic years as a James Scholar are required.
Incoming transfer students are encouraged to participate in a variety of the project options offered. In order to be eligible for cords at graduation, two academic years as a James Scholar are required.
All students must participate their senior year in order to be considered for James Scholar honor cords at graduation.
Students must successfully complete a James Scholar Project in the Fall and Spring semester in order to receive James Scholar transcript notation for the academic year. For all requirements, please see the Program Details page.
James Scholar Project Options
A Note about Honor's Credit Learning Agreements (eHCLA)
ALL students who wish to participate in the James Scholar program must complete an eHCLA in order to be considered a James Scholar for that semester/academic year. Even if students take a designated James Scholar course, they must still complete the eHCLA. See the program details page for more information.
Special Opportunities for James Scholars!
Listed below are a few ongoing special opportunities for James Scholars who are interested in expanding their knowledge about Leadership, Research, and more!
I. Research: The Sustainable World Collaborative, Elementary Education majors only
Elementary Education majors have the option to work with faculty member Barbara Hug and Cristina Krist.
Project description:
This research project focuses on developing a Professional Learning Community with the common goal of understanding how to integrate ideas of sustainability into elementary science teaching. This project will be a collaboration between elementary pre-service and in-service teachers working to develop a database of online teaching resources and lesson plans with a focus on sustainability from a global perspective. Other tasks will include, but are not limited to: developing criteria to screen resources, working with teachers to analyze current lesson plans, and developing new lesson plans.

The requirements for this James Scholar Research Project are:
● Attend weekly meetings (contact Program Coordinators below for details)

● Make a meaningful contribution to developing a resource as part of a group (resource to the database, lesson plan, rubric for screening)
● Willingness to be flexible and creative in a team setting
● Some weeks might require additional individual work
● Upon completion, submit a 1-page summary and reflection on your participation and contribution/what you learned

Students will meet weekly with research assistants and then bi-weekly with teachers.
Elementary Education students (any year, undergraduate or graduate) are welcome to apply. James Scholars may participate in two semesters ONLY.

Please email the Project Coordinators, Barbara Hug at bhug@illinois.edu, and Christina Krist at ckrist@illinois.edu with any further questions.
II. RESEARCH: Conduct a Literature Review Focused on programming & Practices for Students with Disabilities
James Scholars have the opportunity to participate in one of the three research projects offered by Dr. Cheryl Light Shriner. Contact Dr. Light Shriner using the e-mail listed below if you are interested in participating on one of these projects.
Research project opportunity #1: Conduct a literature review that focuses on 1) How School Guidance Counselors are prepared to worked with students with disabilities and 2) the Role School Guidance Counselors have in supporting students with disabilities during high school to select classes and prepare for post-secondary education goals, 3) the role of the School Guidance Counselor on the IEP (Individualized Education Plan) Team. James Scholars will review articles for key information and organize the information into a matrix for the researchers. Information will then be used to construct a survey to be given to School Guidance Counselors.

Research project opportunity #2: Conduct a literature review that focuses on 1) How Occupational Therapists and Board Certified Behavior Analysts collaborate to support children with disabilities 2) Practices of OTs and BCBAs that agree are best practice 3) Practices that OTs and BCBAs that do not agree upon as best practice. James Scholars will review articles for key information and organize the information into a matrix for the researchers. Information will then be used to construct a survey to be given to OTs and BCBAs.

Research project opportunity #3: Conduct a literature review that focuses on the qualifications of teachers to conduct FBAs (Functional Behavior Assessments) and develop BIPs (Behavioral Intervention Plans) in schools. James Scholars will review articles for key information and organize the information into a matrix for the researchers. Information will then be used to construct a survey to be given special education teachers and other IEP team members.
Cheryl Light Shriner, Ph.D., BCBA-D
Teaching Assistant Professor
BCBA Verified Course Sequence Coordinator
Department of Special Education
Course Related Project (repeatable option)
James Scholars can use eHCLA's (electronic Honors Credit Learning Agreements) in conjunction with the instructor of one of their regular classes. The project should expand on the course's content and should involve topics that the student wishes to explore in more detail. Students who complete their project successfully will earn an honors grade in the course.
Theme Projects
I. Research – (2 REQUIRED)
Research Information
Dedicated James Scholar Research Courses. These courses count as research credit without any additional project:
EDUC 102 – Freshmen, fall only

CI 205 - Repeatable option, spring only

HDFS 494- Research Methods (Developmental Assessment and Screenings with Young Children or STRONG Kids Program sections)
*URAP Program: James Scholars who participate in the campus URAP program will take GC 295 and their eHCLA will be a course related project. However, this project WILL fulfill one of your research requirements for the James Scholar program.
Examples of non-course related research includes, but is not limited to the following:
II. Civic Engagement and Global Consciousness – (1 Recommended)
Service Learning & Social Justice
Please consult the campus Class Schedule for availability and times.
ARTE 260- Museums in Action
SPAN 232- Spanish in the Community
SPAN 332- Spanish and Entrepreneurship (SPRING only course)
UP 478- Community Development Workshop
CHEM 199– Undergraduate Open Seminar (only specified sections such as Sci Ed and Research for Children, Kids and Chemistry Outreach program)
EPOL 380- Education & Social Justice
LINC Courses
ENG 298- Special Topics (examples include but are not limited to Lego Robotics Mentoring or Learning in Community with Don Moyer's Boys and Girls Club).
ENG 398- Special Topics (examples include, but are not limited to Engineering for Social Justice Scholars Program).
Study Abroad
If participating in a spring/winter break or summer study abroad program (taken from Illinois), students can earn James Scholar credit by presenting their experience AT A SPRING SEMESTER EVENT. NOTE: James Scholar Credit must be the immediate semester but is based on the commitment to present at a spring venue.
Students who study abroad in the summer will earn fall James Scholar credit but it is based on their presentation in the spring and does not constitute their spring project since it counted for fall.
Students interested in earning James Scholar credit for study abroad will need to create a 4-5 minute video about their educational experience and present at one of the James Scholar spring events.
Contact the College of Education Admissions and Records Officer at recordsofficer@education.illinois.edu with questions and for video and presentation details.
PLEASE NOTE: Semester long study abroad trips automatically fulfill the James Scholar requirement for the semester the student is abroad. The semester long study abroad does not require a presentation.
III. Leadership – (1 Recommended)
I. Leadership Center Program NEW FALL 2021 OPTIONS!!
Please note, students may use a total of two Leadership programs to count for James Scholar credit. If you have already attended two Leadership Center programs for James Scholar credit, please select another option.
To receive James Scholar credit, you will need to follow these steps in order:
1. Register for an option below through the Leadership Center website: It needs to be a program you have not previously attended. Scroll right to see entire table.
Program
Format
Hours
How to Verify
Website Link
Requirements/Notes
*Inclusion, Ignite, Insight & Integrity i-Programs
Blended (self-paced & Zoom discussion)
6 hours
Screenshot of ILC dashboard
https://leadership.illinois.edu/i-programs


Registration Opens- January 25th

Registration Closes- February 19th

*Innovate i-Program

In person
6 hours

ILC certificate
https://leadership.illinois.edu/i-programs

Registration Opens- February 19th

Registration Closes- March 11th
2. REGISTRATION REQUIRED on ILC WEBSITE! Student must be aware of ILC registration deadlines and capacity limits and be certain they are registered and ACCEPTED prior to the March 1 or October 1 deadline of the eHCLA.
Once you receive an email registration confirmation from the Leadership Center, please forward the email to recordsofficer@education.illinois.edu.
3. Submit the eHCLA by March 1st or October 1st to indicate which program you will (or did) attend. This option is only available if you have already forwarded the email registration confirmation in step 2.
4. Once you attend the program, please submit a screenshot of the certificate/confirmation of completion by e-mail no later than the end of the semester in which the program was attended.
To receive James Scholar credit for attending an Illinois Leadership Center program, students are expected to be an active and positive participant.
II. Leadership Course options
LEAD 140: Harnessing Your Interpersonal Intelligence
2 credit hours
Who Should Take This Class: Freshman, Sophomore, or Junior students in ANY college/major interested in developing their self-awareness, self-management, and interpersonal communication skills to be effective team members and leaders.
Course Description: Students will expand their capacity for communication, collaboration and team leadership to navigate the complexities of the university and beyond. In this course, students will learn communication strategies to work with others and practice self-awareness, self-management, and interpersonal communication skills in a supportive setting to reach their personal potential as emerging leaders.
LEAD 170: Leading Student Organizations
Credit: 2 hours.
Students will develop their capacity for leadership in university and volunteer organizations. In this course, students will learn about organizational structures, elements of effective organizations, strategies for leading other people, and applications beyond formal student organizations.
Prerequisite: Freshman, Sophomore, or Junior Standing Required.
LEAD 440 Interpersonal Intelligence for Professional Success
Credit: 2 hours.
Students will develop their capacity for leadership in their current and future professional positions in business and academic research teams, as well as within their broader community. This course's activities are designed to help students understand organizational structures, effective organizations, leading other people, and application of systems thinking beyond formal organizations to communities and society. Restricted to students with Senior or Graduate class standing.
IV. Professional Development - (HIGHLY Recommended - Student Teaching Semester only)
Create a Student Teaching "Toolkit"
This compilation of practical resources should be developed over the course of your student teaching semester to reflect timely advise that will be shared with future pre-student teachers. Your Tool kit must be a minimum of 10 pages and include the following five sections:
Prologue (First 3 weeks of placement)

Include the setting (grade level) and characters (student demographics) without using names

Act 1 (Pre -Spring Break)
Intermission (Spring Break)
Act 2 II (Post-Spring Break)
Finale – (Last 2 weeks of placement)
The above sections should include ideas/tips/resources/reflections including but not limited to the following: Activities (Ice-Breakers & games), Academic Supports, Self-Care, Connecting to Parents, Building Relationships with Students, Maintaining Open Lines of Communication with Cooperating Teacher, Age Appropriate Books on Diversity and Inclusion, Instructional Resources, Classroom Management Resources, Etc…
Attend an Ongoing District Professional Development Opportunity
Work with your school to identify, select and participate in a sustained/extended district-wide professional development opportunity and write a paper, create a poster presentation, brochure or technology-supported resource guide with thoughtful reflection and assessment of the program.(Example: Book Clubs, Curriculum Committees, Program Implementation/Review, Response to Intervention Team (RTI), Data Teams, etc.)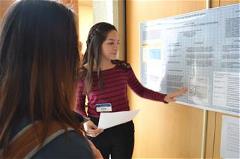 Create a Clinical Experiences Interactive Blog
While student teaching, create, maintain and post a blog to be used interactively with College of Education students. Blog should contain vignettes, weekly "diary-like" entries, and/or an account of specific classroom activities and teaching techniques, followed by thoughtful reflection, assessment, and suggestions for growth and improvement when applicable. This blog is intended to support the development of teacher candidates in early stages of the professional course sequence and to highlight successful practical applications of knowledge, skills, and dispositions developed through University coursework.